Fun wrapping for kids :
Kids love to wrap so let them!
If you live where it's warm do this outside, otherwise do it in the kitchen for easier cleaning.
Kids wrapping supplies :
White or colored craft paper. You may use white butcher paper as well
Elmers glue or home-made non-toxic glue (recipe)
glitter
stamps & pads with ink (watch them carefully)
washable crayons or markers
stickers
curly ribbon
child safe scissors
How To :
Cut all different sizes of paper that would fit most boxes, or if you have certain boxes in mind cut to fit.
Decorate with the above supplies on the "right" side of paper only.
They can draw Christmas trees, balloons or anything they wish.
Color them in and edge in glue and glitter.
They can stamp out all their pictures and make squiggly lines of glitter.
Just let them use their imaginations!
Wrap package in brown craft paper.
Use binder twine as ribbon. Tuck in a few sprigs of flowers or pretty leaves.
Wrap a rectangular package in white paper and address it as if it were an envelope. Don't forget the return address and the stamps. Write "Do not open until Birthday Date" on it.
Let the kids draw pictures on large sheets of white paper and use these to wrap packages. Tie with colourful ribbon and make a bow by gathering 6 crayons together and tying them with ribbon.
Wrapping bottles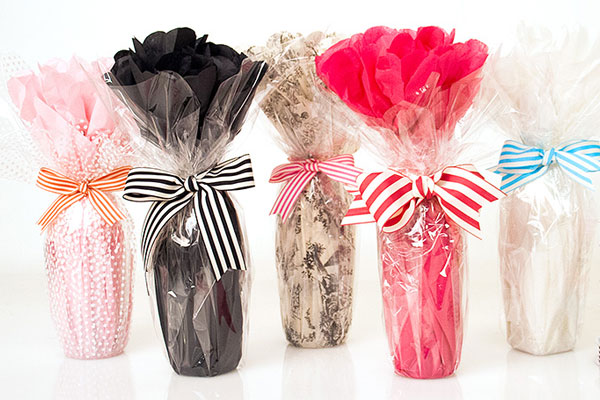 How To :
Stand your bottle in the center backside of your wrapping, tissue paper or cloth.
Pull up the straight sides to be sure that they reach atleast 2 inches taller than the bottle.
Adjust or get a larger piece if they do not.
Once you have it, hold all four sides straight up together and now pull the corners in as well.
If it's champagne and you want the top to show tie your string or ribbon around the neck. (This way there is no need to unwrap when opening the bottle) If you don't want the top to show tie above it.
Be sure it's good and tight.
Tie on curly ribbon and tag it.
Spread a piece of brown craft paper out flat (you may want to place newspaper underneath it for easy clean-up).
Sponge paint or splatter paint the paper using gold, red or green paint (or use all three colours, one at a time). Dry.
Wrap package and finish with matching store bought ribbon.
Create a tower of gifts.
Wrap on large gift and several small ones.
Stack the smaller gifts on top of the large one and tie them all together with wide fabric ribbon.
To make the tower more stable, you can spot glue the gifts together.
Wrap package in paper that is a solid color.
Cut shapes out of complimentary colored paper.
You can use the basic shapes that we have posted as patterns.
For example, wrap the package in green paper and glue on red stars, bells, etc
For Christmas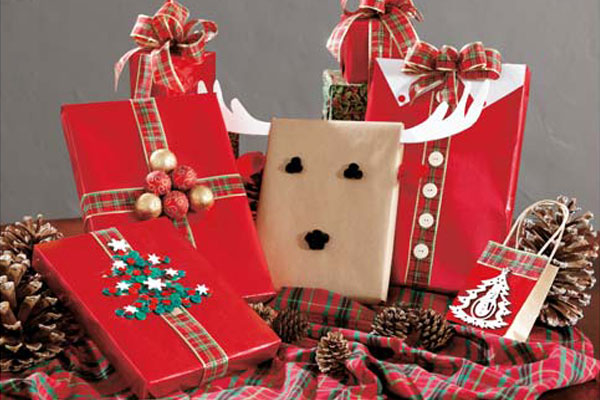 How To :
Wrap package in foil wrapping paper.
String one or more Christmas ornaments on a ribbon and tie the ribbon to the package.
Wrap package in foil wrapping paper.
Then, wrap again in a piece of lace.
This package is so pretty it doesn't even need a bow.