Ginger tea treats sore throat, dry cough and relieves cold symptoms. It also contains antioxidants that boost immunity and reduce the risk of heart attack.
Fresh ginger tea can reduces stress, stimulates alertness and increases energy.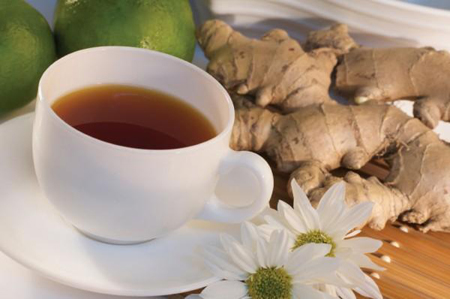 If you want to improve the taste of the ginger tea, you can add honey, freshly squeezed lemon juice or orange. It is not recommended drinking more than two cups of ginger tea per day.
Preparation Of Fresh Ginger Tea:
Method 1.Cut thin 3-4 fresh ginger thin strips and add it in a 400 ml boiled water. Cover the bowl and leave it for about 10 minutes until the water get colored.
Method 2.A quarter cup of grated ginger add it into one liter of boiled water. Cook 4 minutes on low, then strain the liquid into a bowl.
Method 3. In a cup of boiled water, add ½ teaspoon ginger powder. Cover the cup and allow the tea to cool 10-15 minutes before consumption.
It is well known that ginger is good for your health, but  also ginger is very good for your brain. It improves concentration and memory, feeds the body and stimulates the releasing of energy. Because of these features, it is not recommended ginger consumption at night, because it can cause insomnia.