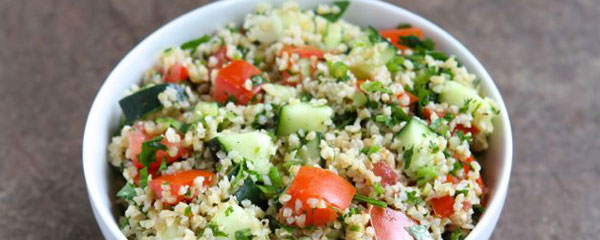 Tabbouleh is a salad that originates from the Middle East or the Mediterranean side. This salad is healthy for it contains finely chopped vegetables, lots of fresh parsley and bulgur wheat. Other than that, there is lime juice and olive oil that will add flavor to the salad. Get the tips and recipe by reading how to make tabbouleh below.
Ingredients :
3 cups boiling water
2 cups uncooked bulgur (dalia)
1 1/2 cups diced tomato (ideally use cherry tomatoes)
1 cup chopped spinach
1/3 cup any pungent cheese, (eg.feta) or soft paneer, crumbled
1/4 cup sliced olives (black, if available)
1/4 cup minced red onion (Madras onion)
1/4 cup water
1/4 cup fresh lemon juice
2 tablespoons extra-virgin olive oil
1 teaspoon salt
1/4 teaspoon freshly ground black pepper
Directions :
Combine 3 cups boiling water and bulgur in a medium bowl let stand 30 minutes or until water is absorbed. Fluff with fork.
Combine bulgur, tomato, and next 4 ingredients (through onion) in a bowl set aside.
Combine 1/4 cup water and remaining ingredients, stirring well with a whisk. Pour dressing over bulgur mixture, tossing gently to coat.