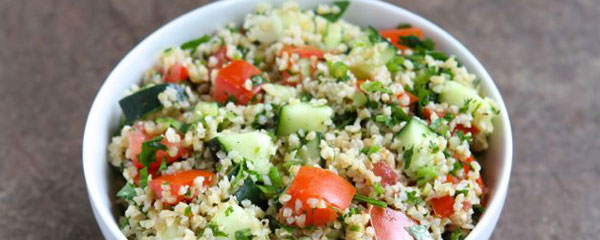 Ingredients :
3 cups boiling water
2 cups uncooked bulgur (dalia)
1 1/2 cups diced tomato (ideally use cherry tomatoes)
1 cup chopped spinach
1/3 cup any pungent cheese, (eg.feta) or soft paneer, crumbled
1/4 cup sliced olives (black, if available)
1/4 cup minced red onion (Madras onion)
1/4 cup water
1/4 cup fresh lemon juice
2 tablespoons extra-virgin olive oil
1 teaspoon salt
1/4 teaspoon freshly ground black pepper
Directions :
Combine 3 cups boiling water and bulgur in a medium bowl let stand 30 minutes or until water is absorbed. Fluff with fork.
Combine bulgur, tomato, and next 4 ingredients (through onion) in a bowl set aside.
Combine 1/4 cup water and remaining ingredients, stirring well with a whisk. Pour dressing over bulgur mixture, tossing gently to coat.