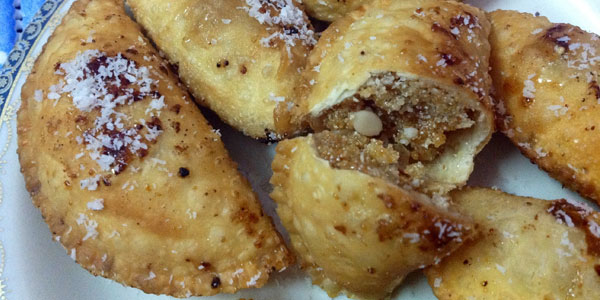 Gujiya, Gughara, Pedakiya, or also known as karanji are sweet, deep-fried dumplings hailed from the Indian subcontinent. Although it varies city to city, the fillings consistently contain various types of dried fruits, suji or maida and sweetened in khoa. But these desserts are not available all year around but rather on special occasions such as Diwali and Holi. But if it's a favorite in your home, you can try to make it by following the recipe below!
Ingredients
For the cover:
1 cup plain flour (maida)
1 tbs. ghee
Water to knead
For the filling :
1/2 cup coconut flakes, fine
1/2 cup khoya
1tbs poppy seeds (khuskhus)
1tsp cardamom powder
1tbs crushed almond
1/4 cup sugar, ground
10 to 15 raisins
Directions :
For the cover :
Mix flour and ghee well. Add enough water to make soft pliable dough. Keep aside.
For the filling :
Roast khoya to a light pink by stirring continuously over low heat. Cool and break in fine crumbs with fingers.
Now roast coconut flakes lightly. Cool. Mix all other ingredients. Check for sweetness.
To Proceed
Make small round, not too thin, not too thick.
Place 1 tsp. filling in one half of round. Fold over the other half, sealing in the mixture.
Seal edges by twisting or pressing together. Make all in the same way.
Dry on clean cloth for 30minutes. Deep fry in hot ghee on low flame till light brown on both sides.
Drain and cool completely before storing.