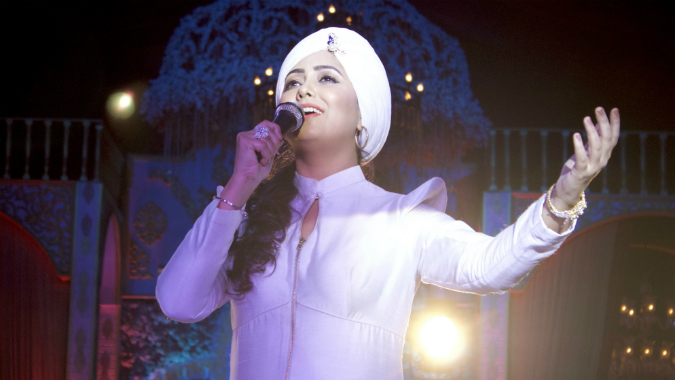 Harshdeep Kaur is a prominent playback singer in India. Her first shot to fame was after winning the titles of two talent reality shows at a young age, the most breakthrough one of her career being "Junoon-Kuch Kar Dikhaane Ka" on NDTV Imagine. It was her Sufi performances, under the mentorship of Ustad Rahat Fateh Ali Kham that prompted Amitabh Bachchan to call her the "Sufi Ki Sultana" or 'Queen of Sufi'.
She has continued to explore her abilities, both in India and internationally. Her list of performances vary from 'Manchester International Festival' (in which she was the first Indian singer to headline the show) and performing for in concerts of famous artist such as A R Rahman. She will soon be performing in Jakarta on 9th September, 2018. More details here >>
Before all of the lights and cameras of Bollywood, her father was the one who influenced her love for music. It was when she sang a song from 'King Uncle' that he discovered her talent for music. At the age of 6, her passion for music began to grow. Her mentors from the early age were Mr. Tejpal Singh (more popularly known as 'Singh Brothers') who taught her Indian Classical Music and George Pullinka who taught her Western classical music. Other than her famous mentors, she also learned piano from the Delhi School of Music.
Amongst all of the musical genres, Sufi holds a special place in her heart. According to Kaur, Sufi music is extremely soulful and can connect its listeners to the almighty. The poetry sung in the songs are also meaningful and mesmerizing. Her all-time Sufi heroes are Nusrat Fateh Ali Khan Saab, Abida Parveen-ji and Reshma. Currently, other artists that inspire her growth as an artist are Jagjit Singh ji, Reshma ji, Nusrat Fateh Ali Khan sahab and AR Rahman.
Her tip to new singers on the same path as her: winning these talent shows should not be a priority, but instead they should work towards higher goals. In the future, Kaur hopes to improve, accomplish a lot more and test her limits with every project she takes.