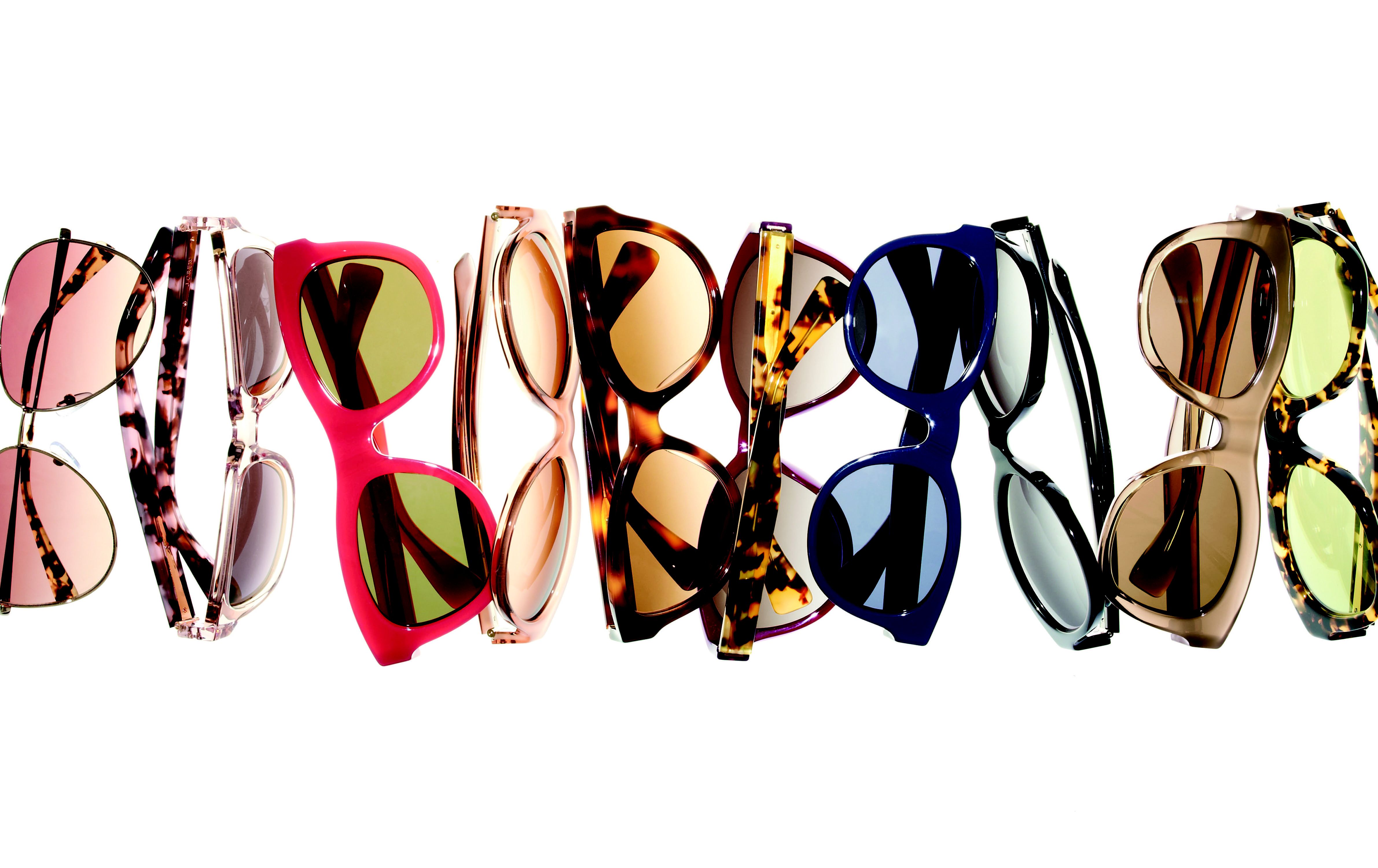 Who doesn't have a pair of sunglasses?
I am sure everyone has at least one pair of sunglasses, and they can be a major fashion statement in addition to protecting your eyes in bright, tropical sunshine.
But are you wearing the right sunglasses for your face shape? You will not only get the health benefits—but also look gorgeous!
Round Face

A round face shape has equal width and length, so it creates a circle-like shape. The forehead and jaw line has the same width; the chin is rounded with no hard lines or angles. The widest part of round face shape is at the cheekbones.
Sunglasses for round face shape:
If you have round face, you want to avoid anything too round in order to complement your features. Choose wide or rectangular frames to balance your round jaw line and make your face appear more proportional. Wide frames that extend beyond the cheekbones will make fuller face seem slimmer, so does thicker frames. Round frames or colored lenses are the big no for round face.
Oval Face


Sunglasses for an oval face

An oval face shape has long been regarded as the ideal face shape due to its balanced proportions. An oval face shape is slightly wider at the cheekbone area, right below the eye level, with softly-rounded jaw line. The jaw line is narrower than the temples.
Sunglasses for oval face shape:
Oval face shape can wear any sunglasses shape. But make sure that you avoid frames that are either too thick or too thin. Play safe by choosing softly angular frames that are not wider than your face width.
Trivia fact: aviator glasses look perfect on oval face shape!

Heart Shaped Face


Sunglasses for a heart shaped face

Heart shaped face is wider at the hairline and forehead than the lower part of the face. The prominent feature of heart-shaped face is the chin, which is pointy. Forehead is the widest part of the face, but the cheekbones are also wide and pronounced.
Sunglasses for heart face shape:
The best sunglasses shape for heart face shape is wide top. Aviator, wrap goggles, and cat eye frames. You can also go for round frames. Just avoid overly embellished glasses and you will have a more balanced face proportion by wearing those frames.

Square Face


Sunglasses for a square face

The distinctive characteristic of square face shape is the strong, broad jaw line. The length and width are very equal—forehead and jaw line and has similar width in appearance. The chin is noticeably square and/or flat.
Sunglasses for square face shape:
To balance your strong facial features, opt for soft, rounded edges frames that have delicate and feminine designs. Strictly avoid squares and rectangles. You can go for ovals and over sized round glasses as well.

Long Face


Sunglasses for a long face

A Long face shape is obviously longer than it is wider, and has a narrow width. The chin is pointed, forehead and jaw line has similar width in appearance. The widest part is at the forehead, which is usually tall and wide.
Sunglasses for long face shape:
If you have a long face, look for the frames that make your face appear wide and short. You can choose wide frames with decorated rims or detailing on the temples. Avoid the frames that are too narrow for your face.
Remember that sunglasses are not merely a fashion accessory, but can provide a welcome protection from sunlight to reduce eye strain. Here are some benefits of wearing sunglasses:
Protection from the sun
The most obvious benefit of wearing sunglasses is the protection they provide from the sun's dangerous rays. Extended exposure to the sun can lead to cancers of the eyelid, cataracts, and macular degeneration.
Reduced dry-eye problems
People who suffer from dry-eye syndrome often experience an increase in symptoms while in dry, windy climates. The environment can have a negative effect on your eyes due to the weather, debris, and dust. Sunglasses protect your eyes from things like wind and debris all year round.
Less glare while driving
The sun's glare increases your risk of getting into car accident, which is why wearing sunglasses while driving is crucial to your safety. Wearing sunglasses while driving sure helps you more comfortable and improve your vision.
Fewer headaches and migraines
Bright sunlight can be a trigger for migraines and bad headaches. Wearing sunglasses can help to reduce both the frequency and intensity of these painful occurrences. Wearing sunglasses when out in the sun can help reduce eyestrain and fatigue, meaning that you'll just be more comfortable.
Sunglasses are stylish—they make you look cool!
Set aside the health benefits of sunglasses—now is the fun reason! Sunglasses come in many color, shapes, and styles. You can even have different sunglasses for different activities and clothing styles.
There you have it. Keep your eyes healthy and safe, and also look great by choosing the right sunglasses for your face shape.