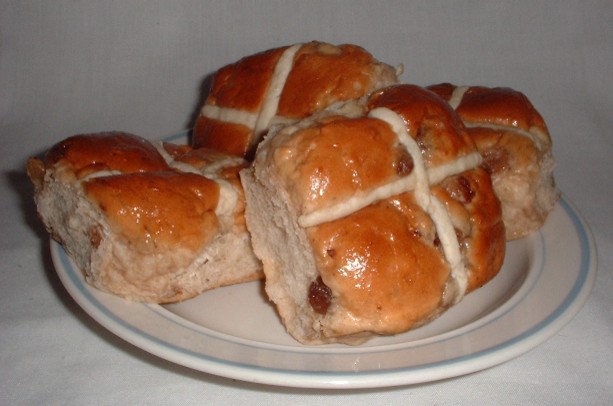 These slightly sweet rolls are an Easter tradition in many families.
Ingredients:
Makes about 2 dozen
1 cup Milk
8 tbsp Butter
1/2 cup Sugar
1 tsp Salt
1 package (1/4 ounce) Dry active yeast
2 Eggs
4 cups Flour
1 tsp ground Cinnamon
1 cup Raisins
Egg white
Powdered sugar
Lemon juice
Directions:
Scald the milk (bring to just under a boil). Stir in the butter, sugar and salt. Cool slightly.
Whisk in the yeast and allow to sit 5 minutes. Lightly beat 1 egg and add to the mixture.
Sift the flour and cinnamon together. Add to the wet mixture to form a dough. Fold in the raisins.
Cover and let it sit in a warm place for 2 hours. Lightly oil a cookie sheet.
Form the dough into large buns. Return to a warm place for 1 hour. Pre-heat the oven to 400.
Brush the tops of the buns with the other beaten egg. Bake for 20 minutes. Cool.
Make a cross on top of each bun with an icing made of an egg white, powdered sugar, and a dash of lemon juice (blend them until a thick icing forms).