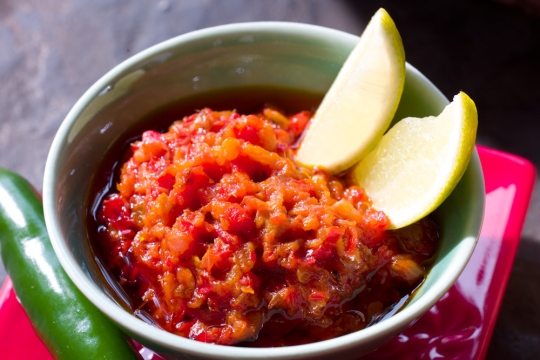 Sambal is known to be a spicy condiment. Its spice levels can be addictive to some and unbearable for the rest. Luckily, sambal has transformed over the years to include many varieties such as sambal kecap (sweet soy sauce sambal), and sambal bawang (garlic sambal). For those who are sensitive to spice, you can try out this tomato sambal recipe.
Ingredients :
4 tbsp oil
15 shallots, peeled and sliced
10 gloves garlic, peeled and sliced
14 large red chilies, seeds removed, sliced
2 medium- sized tomatoes cut in wedges
2 tsp freshly squeezed limejuice
Salt to taste
Directions :
Heat oil in a heavy saucepan or wok.
Add shallots and garlic and saute 5 minutes over low heat. Add chilies and saute another 5 minutes, then add tomatoes and simmer for another 10 minutes.
Add lime juice. Put all ingredients in a food processor and puree coarsely. Season to taste with salt. Cool before using.