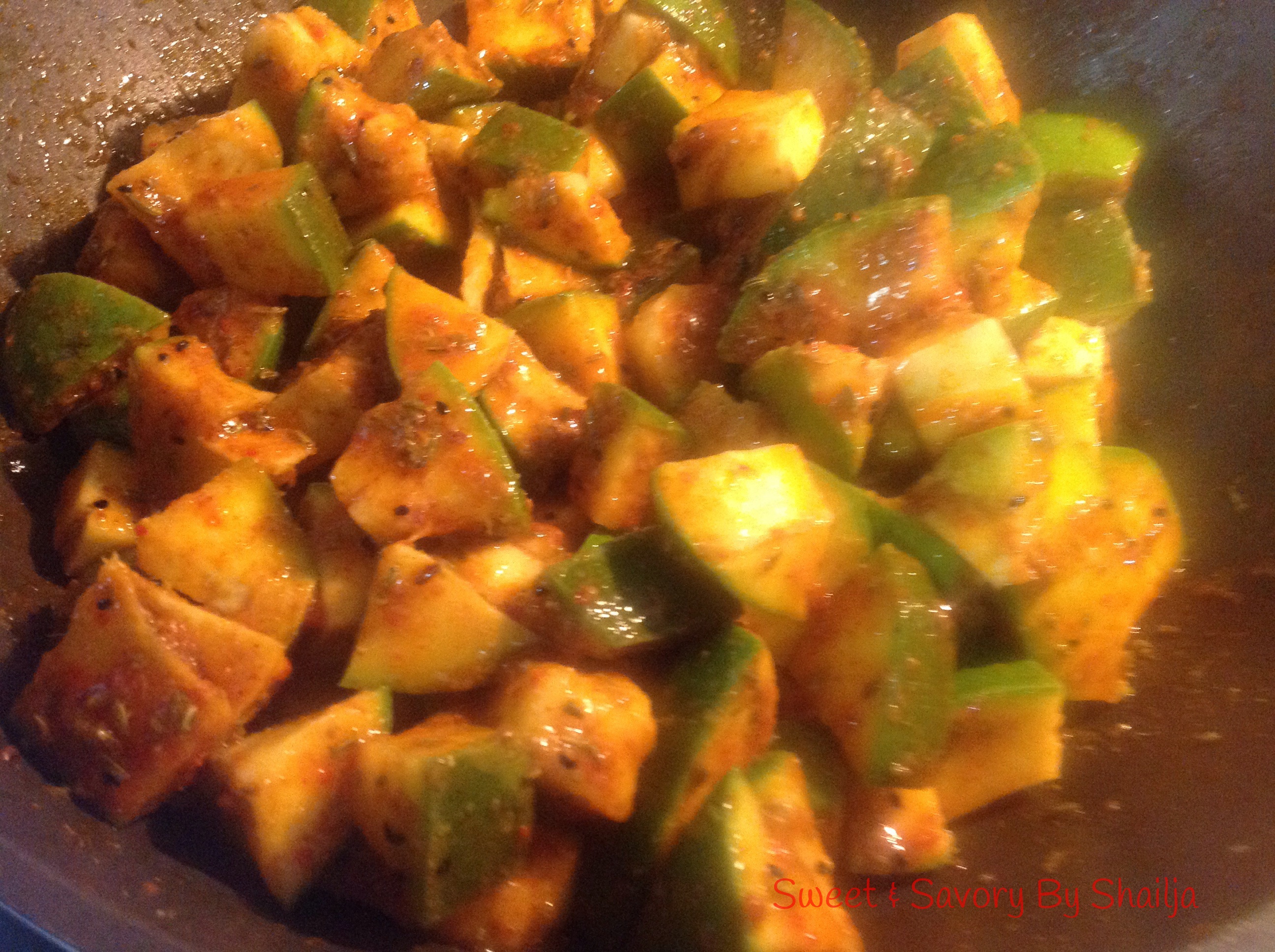 No Oil Mango Pickle
Ingredients:
2 medium raw mangoes
3 tbsp. salt
1 1/2 tsp. turmeric powder
1 tbsp. red chilli powder
1/4 tsp. asafoetida
1 tbsp. coarsely crushed mustard seeds
1/2 tsp. nigella seeds (optional)
Method:
Chop mangoes into big (1″) chunks.
Discard seeds. Sprinkle 1 tbsp. salt and 1/2 tsp. turmeric.
Rub to coat all pieces, place aside for 3-4 hours.
Put in a colander to drain out water.
Spread on a clean absorbent cloth for 2 hours.
Take piece in a large bowl.
Sprinkle all other ingredients and toss to blend evenly.
Put pieces in a clean glass jar, keep aside.
Allow to mature for two days in a clean dry corner.
Shake jar daily. Refrigerate.


---

Jackfruit Pickle
Ingredients:
200gms (15-20) green chillies (slightly thick ones)
Kathal / Jackfruit cut into 1 1/2″ pieces – 1 Kg
Salt – 150 Gms
Mustard Oil – 2 Cups approx.
Rai powder (mustard powder) – 50 Gms
Dhania Powder (coriander powder) – 50 Gms
Haldi – 50 Gms
Red chilli – 50 Gms
Methi daana ( fenugreek seeds) dry roast lightly on a tawa – 25 Gms
Saunf (fennel seeds) dry roast lightly on a tawa – 50 Gms
Kalonji ( nigella seeds) – 2-3 Tsp
Amchoor – 4-6 Tsp
Method:
Boil the kathal with 2 Tsp salt till soft.
Drain the water and dry it on muslin cloth for 5-6 hours.
Heat 1 Cup Oil in a Karahi to smoking point.
Remove from fire.
Add salt, rai powder, dhania powder, haldi, red chilli, methi daana, saunf, kalonji, and amchoor.
Mix.
Rub the Kathal with this masala & put it in a jar.
Next day, heat about 1 cup mustard oil to smoking point.
Remove from the fire and cool the oil.
Pour this oil in the jar of pickle , adding enough oil to cover the kathal properly.
Keep the achaar in the sun for 4-5 days.
Keep shaking the jar daily.


---

Brinjal Pickle
Ingredients:
Brinjal (long thin variety) cut into 3/4″ pieces – 1 Kg Brinjal
Mustard oil – 1/2 Cup
Vinegar – 1 1/2 cups
Salt – 50 Gms
Ginger – 50 Gms
Garlic – 50-100 Gms
Rai powder – 50 Gms or 8 Tsp
Haldi – 2 Tsp
Red chilli powder – 2 Tsp
Gur (jaggery) – crushed
Roast & Grind:
Jeera (cumin seeds) – 3 Tsp
Methi daana (fenugreek seeds) – 3 Tsp
Method:
Cut the brinjals into 1/2″ cubes.Heat oil in a karahi and fry the garlic & ginger pastes till golden brown.
Remove from fire.
Mix rai powder, haldi, red chilli powder, jeera and methi daana to the ginger garlic paste.
In a separate vessel dissolve the gur in vinegar by heating on a low flame.
Remove from fire and keep aside.
Add the brinjals & salt to the ginger garlic mixture.
Cook for 5 miniutes till brinjals are half done.
Add the gur and vinegar mixture to the brinjals and cook further for 1 miniute.
Remove from fire.
Cool and fill in a clean jar.


---

Green Chilli Pickle
Ingredients:
200gms (15-20) green chillies (slightly thick ones)
8 tsp rai powder
1 tsp haldi
3tsp salt
8 tsp amchoor
6 tsp mustard oil
Method:
Wash and wipe green chillies.
Slit the chillies and dry in shade for 1-2 hours.
Mix all the dry masalas. Mix 1 tsp of oil to them to bind the masalas together.
Fill the prepared masala in the chillies.
Heat 4-5 tsp oil in a kadhai or a pan. Add the green chillies and sauté for 2-3 minutes on low flame till the chillies become slightly soft. Do not let them get discolored.
Fill in sterilized bottles.


---

Gobhi Gajar Ka Achaar
Ingredients
Cauliflower -1 whole divided into florets of med. size
Carrots – cut into long pieces
Ginger-grated 3 tbsp
Garlic – grated-4tbsp
Salt -to taste
Jaggery- about 2 inch square
Vegetable Oil- 1/2 cup
Balsamic Vinegar- 1/2 cup
Kashmiri Red Chilli powder – 2 tbsp
Method:
Heat water in a big sauce pan and when it begins to boil, switch off the heat and add the cauliflower and carrots to this. Keep for 1 min. Take out and spread on clean absorbent cloth or paper towel. Leave for about an hour so that all the water dries out. Make sure that there is no water by turning the sides of the vegs.
Now, heat the pan and to this add oil. When it heats up add the ginger garlic paste and fry till golden brown. To this add chilli powder, jaggery and salt. Fry on medium for about 1 min. and add the balsamic vinegar and keep stirring for another 2-3 min. till it begins to boil. Now finally add the vegs. and stir another 2 min.
Take off the heat and cool and store in an airtight and dry jar. Pickle is ready to eat in another 2-3 hours. Eat with daal and rice, paranthas or any sabzi.