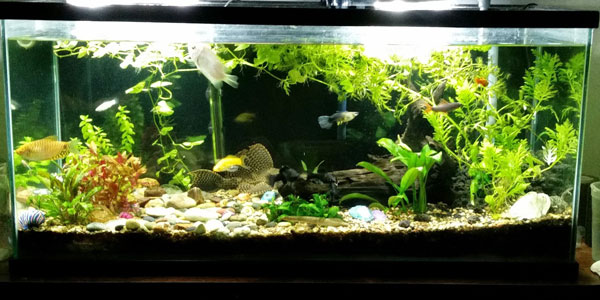 Always wanted fish as pets but didn't know how to go about it?
Read our tips how to get ornamental fish in your house, with minimum fuss…

Where to Place
You can have fish in the typical rectangular glass aquarium, available at any hobby shop. The most popular size is 2ft length, 1.5ft height and 1ft width, and the largest is 3ft in length, 1.5ft in height and 1ft in width. Opt for a fish bowl if you're strapped for space.
Ideally, place it inside the house, in any low-traffic area, or under a covered terrace – direct sunlight will heat up the aquarium and cause algae build up. Just make sure your aquarium is stable (on a wrought-iron stand, you can put a thin layer of thermacol below to keep it steady.). Nowadays, aquariums come with customised wooden stands.
Set It Up
You'll need to invest some time in readying your pet's "home". The first step is to get your container. Wash it thoroughly, and then make a base with pretty pebbles or sand. Add bigger stones but, create an area such that the fish find some "me space." Ideally, your aquarium should resemble the sea bed – so add corals, seashells and water plants. Put in the plants – their roots should be immersed in the sand or pebbles; support them with stones. Now fill up with some water (room temperature tap water works fine), in a slow steady stream so that your "setting" is not disturbed. Put in the fish after a few hours, to allow the environment inside the aquarium to settle down well.
'Contrary to popular opinion, there's really no need to clean your aquarium every week. You just need to install a good electronically-operated water filter in your aquarium to keep the water pure. You need to take out the water filter and clean it once every 20 days. Also invest in a "cleaner" fish – true to its name, it eats up all the muck.
An electronically-operated aerator is another must for adding oxygen to the water–this thin plastic pipe is attached to a "weight" which disperses bubbles when immersed in water. All aquariums come with a "cover", on which you can install a bulb or a small tubelight/under water light when you want to see your fish at night.
Which Fish To Get?
It's entirely up to you – you may opt for a variety of colourful fish, or stick to just one kind. Options include Angel fish (in silver or black) Black Molly, Red Swordtail and Gold fish. Guppies are peace-loving and prone to multiply if they're comfortable in their "home." Fast-moving fish such as Tigers and Kissing Guramis can also make interesting additions. Avoid getting a pair of Fighter fish – these look great but fight amongst themselves, often killing each other. If your fish are breeding, don't add Shark fish to your aquarium – it eats up the babies!
Feeding and Care
There are many varieties of fish food available in the market. Dry worms are most popular since they provide ample nutrition. Feeding fish once a day is enough but set a time for it. You may change the water once in 2-3 months. The fish themselves do not require any other care.