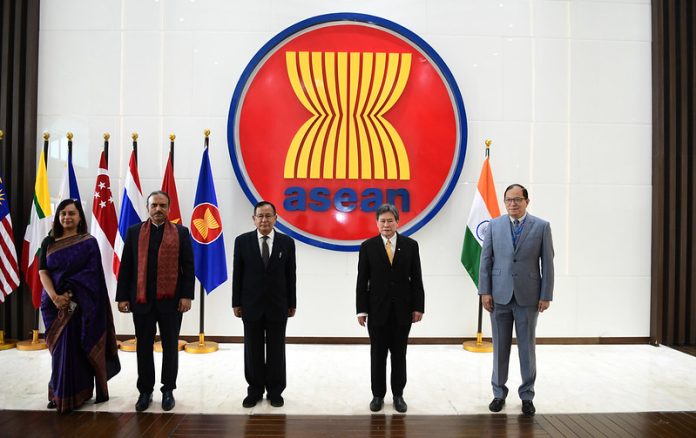 India, ASEAN launch AINU to boost cooperation in education
By Veeramalla Anjaiah
The strategic relations between India, a South Asian giant, and the Association of Southeast Asian Nations (ASEAN) have entered into a new phase with launching of the ASEAN-India Network of Universities (AINU) on Aug. 29 in Jakarta.
The AINU, which was set up by India's Nalanda University and the ASEAN University Network (AUN), was launched by Indian Minister of State for External Affairs and Education Rajkumar Ranjan Singh along with ASEAN Secretary-General Dato Lim Jock Hoi at the ASEAN Secretariat in Jakarta.
"Launched the ASEAN-India Network of Universities along with Secretary General of ASEAN, VC of Nalanda University, and PRs of ASEAN Member States. AINU will help in developing a knowledge hub in the region by strengthening linkages among universities of India and ASEAN Member States," Minister Singh tweeted on Aug.29.
The launching ceremony was also attended by the Vice Chancellor (VC)/Rector of the Nalanda University Prof. Sunaina Singh, executive director of the AUN Dr Choltis  Dhirathiti, all 10 Permanent Representatives (PRs) of ASEAN member states, Indian Ambassador to ASEAN Jayant N. Khobragade, diplomats, scholars and journalists.
According to Singh, who was in Jakarta from Aug. 28-29, the AINU was announced by Indian Prime Minister Narendra Modi during ASEAN-India Commemorative Summit in New Delhi in 2018.
"I am indeed grateful to the Nalanda University for its diligent effort to implement the vision of our Prime Minister. I am also grateful to ASEAN University Network for their stewardship of the process to give shape to this project," Singh said in his speech.
"The AINU is envisaged as a consortium of premier institutes from India and ASEAN that will build a core network of knowledge capital through strategic partnerships among academic and research institutions in India and ASEAN member states. Such "Collective Knowledge Network" with ASEAN becomes even more important as we prepare for a post-pandemic, 21st–century-ready economic and developmental pathway where knowledge and education are central".
Dato Lim welcomed the cooperation between ASEAN and India.
"I underlines the importance of strengthening the bond between communities, enhancing the relationship and mobility to help overcome the regional and global challenges," Lim said.
Lim was happy to note that the cooperation between ASEAN and India would provide a platform for collaboration in research, innovation, creation of new knowledge and enhancement of capabalities of all stakeholders, including faculties and researchers of ASEAN and India.
For ASEAN, India, which is a new rising global power, is not only a neighbour but also an important strategic partner.
On Aug.31,  India's National Statistical Office (NSO) has announced that Indian economy grew by a record 13.5 percent year-on-year during the period from April to June of 2022.
During the same period, Chinese economy grew just 0.4 percent while the world's largest economy the U.S. shrank by 1.6 percent. Our Indonesian economy grew by 5.4 percent in the same period.
India, the second most populous country with 1.41 billion people and the fifth biggest economy with a gross domestic product (GDP) of $3.68 trillion, had launched its ambitious "Look East Policy" in 1991 to develop extensive economic and strategic relations with ASEAN countries. As part of this policy, India became ASEAN's sectoral dialogue partner in 1992.
The relations between India and ASEAN were enhanced to a full dialogue partner in 1996 and to a summit-level partnership in 2002. In 2012, the relationship was further upgraded to a strategic partnership.
"Today our cooperation has grown beyond its initial economic dimension to cover multiple facets including connectivity in various forms, people-to-people ties, and more recently, strategic as well as defence and security aspects. The graduation of our Look East Policy to Act East Policy follows this growth pattern. Today substantial portion of India's interests lie to the East of India, beyond the Indian Ocean and into the Pacific," Singh said in his remarks.
Modi's government has launched the "Act East Policy" in 2014 as an advancement to the Look East Policy.
India strongly supports ASEAN unity and centrality, especially in the Indo-Pacific region. India's interactions and cooperation with individual countries of ASEAN, including Indonesia, have grown by leaps and bounds recently thanks to its Indo-Pacific Vision.
For example, India's trade with ASEAN last year reached $110 billion or 10 percent of India's global trade.
"ASEAN has been a popular destination for the Indian tourists, and it hosts a strong Indian Diaspora. On strategic level, as well, we are intensifying our cooperation in the area of defence, maritime security, cyber-security and transnational crime. Efforts are being made to increase connectivity with the region through air and maritime links and across land border. Events like Artists camp, Music Festival, Youth summit and Hackathon regularly dot our annual calendar to promote linkages among our youth," Singh said.
India has civilizational links with Southeast Asian countries for more than 2,000 years.
"ASEAN-India partnership is built on a foundation of shared values, the most fundamental of which is the priority our civilizations attach to education. Our partnership with the nations of Southeast Asia has historically developed through a shared quest for knowledge. Even trade and political ties have followed the pathways and sea routes created by monks, saints and scholars. So it is only natural that in the modern age as well, knowledge remains the fundamental driver of people-to-people ties," Singh added.
This year is an important year in the relations between ASEAN and India. It has been designated as the ASEAN-India Friendship Year. The year 2022 also marks the 30th anniversary of the ASEAN-India relations as well as the tenth anniversary of India's strategic partnership with ASEAN.
ASEAN is currently considering to upgrade this strategic partnership with India to a comprehensive strategic partnership.
On June 16, India has organized the Special ASEAN-India Foreign Ministers Meeting in New Delhi to celebrate the three decades of India's relations with ASEAN. Indonesian Foreign Minister Retno LP Marsudi attended this meeting.
The launching of the AINU comes at a right time. India is willing to work with ASEAN in all fields, including education.
India has recently offered 1,000 PhD fellowships for students from ASEAN countries to study at India's prestigious Indian Institute of Technology (IIT) in various cities.
"We have welcomed students from our Southeast Asian neighbourhood to transform the world by doing research on cutting-edge areas. It helps the next generation of all ten ASEAN partners, and their Indian counterparts, develop new bonds of friendship," Singh said.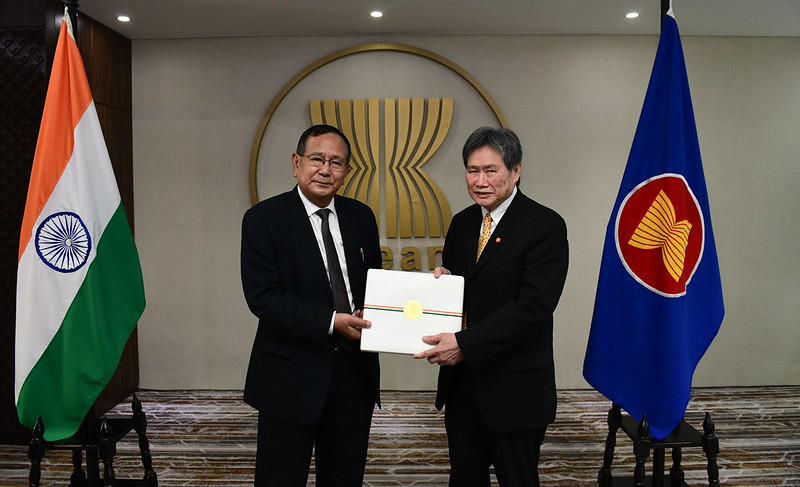 "As a producer and incubator of knowledge and knowledge systems, India has always been open to sharing its learning with the world. India is fairly unique in being host to tens of thousands of international students as well as sending out tens of thousands of students abroad. This two-way process and exchange of young students, scholars, academics and talent will continue and in fact intensify in the years ahead. We welcome it as such exchanges are fundamental to international understanding and to a globalised economy".
The AINU, according to Singh, would envisage cooperation through several initiatives including exchange of faculty and students, scholar & researchers; sharing of information and publications; organizing joint seminars, workshops, conferences; working towards mutual recognition of qualifications and developing institutional linkages.
As a first step, the AINU will focus on exchange of faculty members.
It is the right decision to pick up the Nalanda University, which is located at Rajgir Hills in Bihar, India, as the main stake holder in the AINU project. The university was endorsed by the 18 countries at the 3rd East Asia Summit in January 2007 in Manila. It draws inspiration from its illustrious, historical predecessor Nalanda Mahavihara, which served as the conduit of India's intellectual connections with the larger Asia, drawing students and scholars from East Asia, Southeast Asia and Central Asia.
Nalanda Mahavihara university, which existed from 5th century to 12th century or almost 800 years continuously, used to have 2,000 lecturers and 10,000 students. Many Indonesians and students from other Southeast Asian countries travelled to India to study at Nalanda Mahavihara 800 years ago.
"The Nalanda University aims to re-establish these linkages for the emergence of Asia as the knowledge hub of 21st century. I am confident that the ASEAN-India Network of Universities will expand the frontiers of learning, scholarship and knowledge – for the good of our societies and our people," Singh said.
The other main stakeholder AUN was established in 1995 to quickly develop a regional identity and solidarity while promoting the fostering of ASEAN talents by creating a platform to allow the region's leading higher education institutions to collaborate.
The AINU will be mutually beneficial for both India and the ASEAN if it is implemented properly. Both ASEAN and India must work hard to make the AINU a success.
The writer is a senior journalist based in Jakarta.