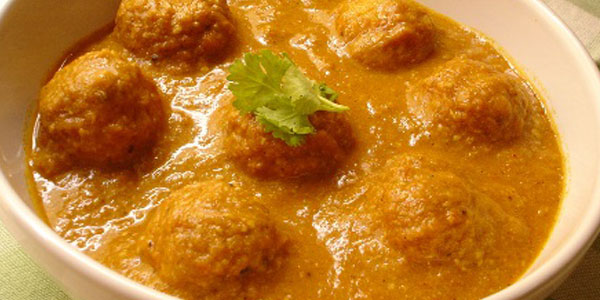 Malai means cream and kofta are fried balls. Therefore, malai kofta literally translates to koftas covered in creamy sauce. Originally, kofta means meatballs. Yet as time went by, this dish is made into the vegetarian version using vegetables. The balls are then served with thick, creamy gravy as a complimentary dish to butter naan, roti, or other flavored rice like jeera rice. As this dish takes time to make, it would be better to cook it during special occasions or weekends.
Serves: 4
Time required: 20 minutes
Ingredients :
2 large Boiled potatoes
100  gms Paneer
1 tsp Chopped green chili
25 gms Raisins
¼ cup Cornflour
Oil for deep frying
Salt to taste
Gravy :
1 cup Boiled onion paste
1 tbsp Garlic paste
1 tbsp Ginger paste
½ cup Mawa / Milk powder
½ cup Fresh cream
1 tsp Tumeric Powder
1 tsp Coriander Powder
1 tsp Garam Masala powder
½  cup Tomato Puree
1 tsp Red Chili Powder
2 tbsp Oil
Salt as per taste
Directions :
Grate boiled potatoes and Paneer. Add chopped green chilies, cornflour and salt. Mix well.
Divide into 16 equal sized balls. Stuff raisins into them. Deep fry in hot oil until slightly coloured. Keep aside. These are koftas.
Heat oil in a

Kadhai

. Add Boiled Onion Paste and cook for 5 minutes.
Add Ginger Paste, Garlic Paste, coriander powder, turmeric powder and salt. Cook for a minute. Add tomato puree and red chili powder and cook on a medium flame for 8-10 minutes. Add Garam Masala Powder.
Dissolve mawa/milk powder in 1½ cup of water and add to the gravy. Bring it to a boil and simmer for 5 minutes on a slow flame. Finish with fresh cream.
Put koftas in a serving dish and pour hot gravy on top.