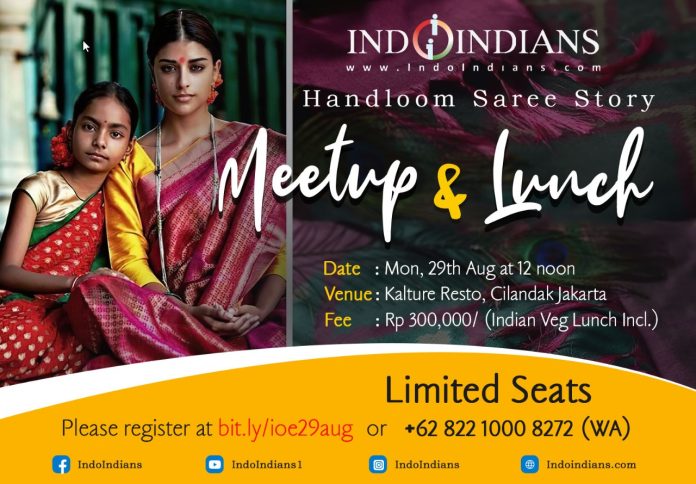 The feel of handwoven fabric. The texture. The weft and the warp. The intricacy of design. The symmetry and also the idiosyncrasies of made-by-hand. The centuries old craft traditions that are reverently passed on from one generation of artisans to the next. The story behind each gorgeous yard of a handloom saree. The wonder at the skill, the passion & the sheer hard work that goes in to create something so beautiful.
Join us for an informative Indoindians Handloom Saree Story Meetup & Lunch
Speakers:
Mdm Anamika Bharti: Knowledge sharing on handloom sarees
Meera Joseph: All about Kerala's Kasavu Saree
Shanthi Seshadari: Kanchipuram handloom weaving
India has an unsurpassed legacy of weaves, textiles, and craft. Each region has something distinct and unique to offer with a deep historical and geographical significance. From lush brocades, Benarasi, Tanchoi, Kanchipuram crafted out of pure metallic threads to folk tales exquisitely crafted in fabric like Sambhalpuri, Paithani to basic rural weaves like Khand and Tangail, there is much to admire amongst the Indian handloom weaves.