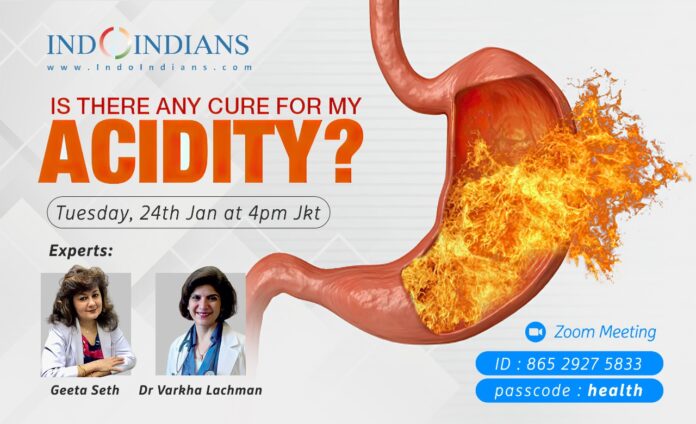 Is there a CURE for ACIDITY?
Join Dr Varkha and Geeta Seth online to find answers and strategies to manage acidity, bloating, heartburn and or chest pain.
Acidity often refers to an excessive amount of acid in the stomach. When the stomach produces too much acid, it can cause symptoms such as heartburn, chest pain, and discomfort in the upper abdomen. This condition is known as acid reflux or gastroesophageal reflux disease (GERD).
When: Tuesday, 24th Jan from 4pm Jkt | 5pm Sg | 2.30pm IST
Where: Online Zoom 
Meeting id: 865 2927 5833
Passcode: health
About Dr Varkha Lachman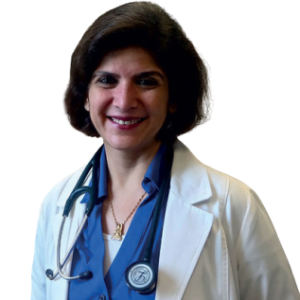 Dr Varkha is a general practitioner at RSU Bunda Hospital. She graduated from ATMAJAYA University and has been practicing medicine since 1996. She also has a diploma in family medicine from Apollo Hospital India and is International member of Royal College of Physicians.
Dr Varkha has a Graduate Diploma in Family Medicine Dermatology from National University of Singapore and in 2018 acquired the Certificate of Knowledge in Clinical Tropical Medicine and Traveler's Health.
AboutGeeta Seth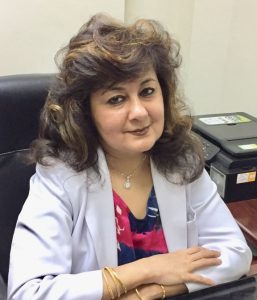 Geeta Seth is a qualified nutritionist and dietitian for the past 15 years. A two times gold medalist in the field of nutrition. She is also a qualified diabetes educator and diabetes pump trainer, specializing in the field of diabetes. She claims to have a normal blood glucose in diabetics with the right diet to avoid diabetes complications further. Also with the right carbohydrate counting for type 1 diabetics according to their dose she gives the accurate diet to achieve normal glucose in the blood. Geeta has worked for various health institutes and hospitals and till date she does not have a single failure in terms of patients.  As a speaker she has given nutritional services to various corporate institutes and schools.