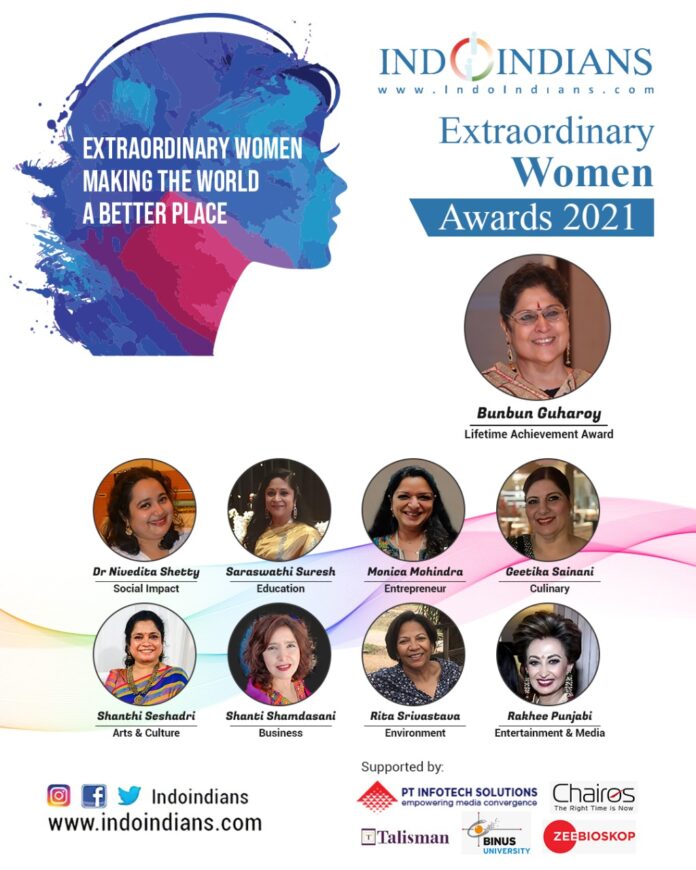 Indoindians Weekly Newsletter: Announcing the Indoindians Extraordinary Women 2021 Awardees online here >>
Namaste Friends,
Drumroll…… Announcing the Indoindians Extraordinary Women 2021 Awardees
This has been an incredible journey of formally recognizing so many wonderful women in the Indoindians community that have made extraordinary impact in this part of the world.
This year we are proud to announce Awardees across 9 categories, as below:
1. Lifetime Achievement: (Late) Bunbun Guharoy
2. Social Impact: Dr. Nivedita Shetty
3. Education: Saraswathi Suresh
4. Entrepreneur: Monica Mohindra
5. Culinary: Geetika Sainani
6. Arts & Culture: Shanthi Seshadri
7. Business: Shanti Shamdasani
8. Environment: Rita Srivastava
9. Entertainment & Media: Rakhee Punjabi
We thank our independent jury panel comprising of:
– Anamika Bharti
– Prita Kemal Ghani
– Marvin Suwarso
– Sachin V Gopalan
– Sari Kusmaningrum
Indoindians Extraordinary Women Awards is a platform to promote the positive impact women make on society.
We are currently in the middle of our 7 day #IndoindiansYogaChallenge and encourage you to participate and share.
Upcoming online events:
Sun, 20th June – Yoga Session with Binay Sahoo at 7am Jkt. 
Fri, 25th June – Cooking Shooking with Friends at 3pm Jkt | 4pm Sg | 1.30pm IST. 
Father's Day is on Sunday, 20th June. Order gifts via www.indoindianshop.com to over 300 cities in India and Indonesia. Hurry last day to order.
Warm regards,
Indoindians Team
Indoindians Weekly Newsletter: Announcing the Indoindians Extraordinary Women 2021 Awardees online here >>