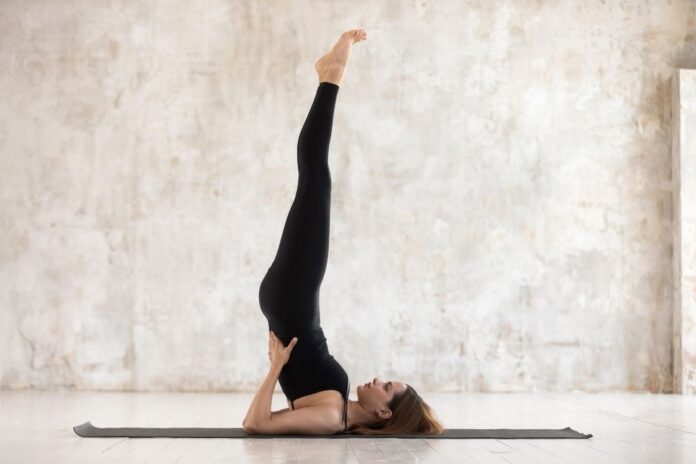 Day 3 #IndoindiansYogaChallenge: SARVANGASANA- Shoulder Stand Pose
SARVANGASANA- Shoulder Stand Pose
Going into the asana: 
– Lie on your back with hands by your side.
– With one movement, lift your legs, buttocks and back so that you come up high on your shoulders
– Support your back with the hands.
Effects of the asana: 
– stretches our shoulders and legs while toning our abs.
– Stimulates the thyroid and parathyroid glands and normalizes their functions
– Strengthens the arms and shoulders and keeps the spine flexible
– Nourishes the brain with more blood
– Stretches the heart muscles by returning more venous blood to the heart
– Brings relief from constipation, indigestion and varicose veins
– It helps relieve swollen legs
– It helps calm a headache
– Relieves Common Cold
Tips & Requirements:
Wear comfortable lose clothes during the asanas.
Use a yoga mat or a carpet to perform your asanas. Don't directly practice on the floor.
Practice on an empty stomach empty or at least 2-3 hours of gap between meals.
Follow the directions of the asana/pose till you can do it perfectly. Post your photo/video or go FB live in the asana challenge of the day and remember to tag @INDOINDIANS  on Instagram & FB with hashtag #IndoindiansYogaChallenge
You can also tag your friends and nominate them to participate in the challenge with you.
Lets Get Set Go….Pose…Click
Join in the learning and practice of the Yoga practice leading towards the International Day of Yoga on June 21. We at Indoindians challenge you all to join the #IndoindiansYogaChallenge
If you have any questions or comments, do post below or on the Indoindians FB wall.