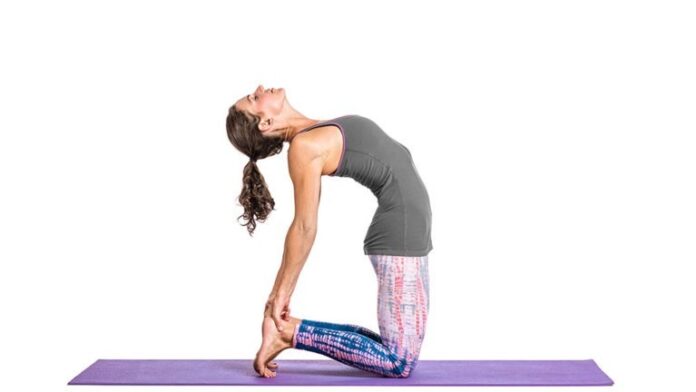 Day 5 #IndoindiansYogaChallenge: USTRASANA- Camel Pose
USTRASANA- Camel Pose
Going into the asana: 
– Stand on your knees
– Point your toes downwards
– Put your hands on the back side of your hips
– Push your torso forward, lean your chest to the back
Effects of the asana: 
– Reduces fat on thighs
– Opens up the hips, stretching deep hip flexors
– Stretches and strengthens the shoulders and back
– Expands the abdominal region, improving digestion and elimination
– Improves posture
– Opens the chest, improving respiration
– Loosens up the vertebrae
– Relieves lower back pain
– Helps to heal and balance the chakras
– Strengthens thighs and arms
– Improves flexibility, especially in the spine
– Stimulates endocrine glands
– Releases tension in the ovaries
– Stretches the ankles, thighs, groin, abdomen, chest, and throat
– Cures constipation
– Tones organs of the abdomen, pelvis, and neck
– Complements overall health and well-being
Tips & Requirements:
Wear comfortable lose clothes during the asanas.
Use a yoga mat or a carpet to perform your asanas. Don't directly practice on the floor.
Practice on an empty stomach empty or at least 2-3 hours of gap between meals.
Follow the directions of the asana/pose till you can do it perfectly. Post your photo/video or go FB live in the asana challenge of the day and remember to tag @INDOINDIANS  on Instagram & FB with hashtag #IndoindiansYogaChallenge
You can also tag your friends and nominate them to participate in the challenge with you.
Lets Get Set Go….Pose…Click
Join in the learning and practice of the Yoga practice leading towards the International Day of Yoga on June 21. We at Indoindians challenge you all to join the #IndoindiansYogaChallenge
If you have any questions or comments, do post below or on the Indoindians FB wall.