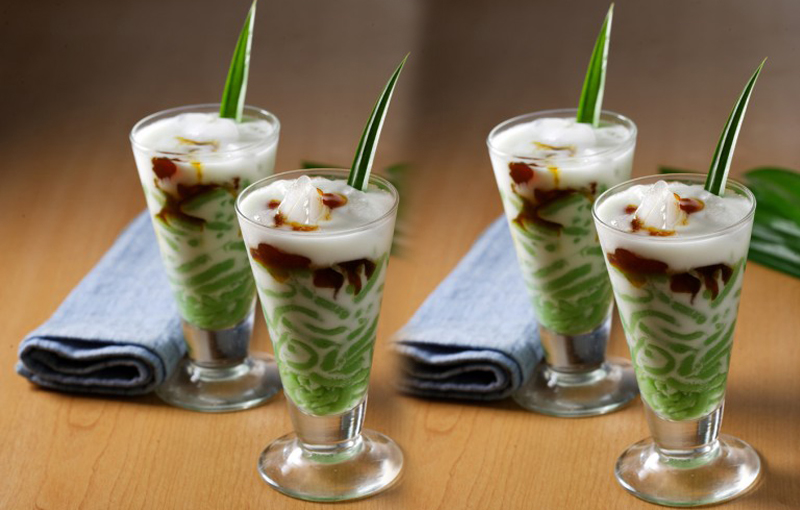 Cendol or Dawet is a sweet, refreshing drink is best enjoyed in the tropical summer of Indonesia. Cendol, with its delicious sweetness and chewy taste, is as much appreciated especially during the Ramadan period. It is also mentioned in Javanese text as 'dawet' and known to have originated from Java.
Ingredients for Cendol:
30 of pandan leaves, washed and ends cut
150 ml rice flour
1 Tbsp tapioca flour
1 Tbsp betel lime
approx 700 ml of water
Some ice cubes
Ingredients to make the drink:
brown sugar syrup
coconut milk
4 pandan leaves, made into two tied bunches
How to make cendol:
First, cut the pandan leaves into pieces. Add 500 ml of water and blend until crushed.
Filter the solution, leaving only the water to be used. Add 200 ml of water.
Add all the flour into the green solution
Turn on the medium heat
Continuously mix it. Don't stop until the batch is thick. Turn off the heat
Now, prepare a large mixing bowl and fill with water and ice cubes
Put the cendol press above the bowl and put in the cendol solution on top. Note that you can use an Indian Namkeen press to do this.
Press the paste till the cendol is pressed into short green noodles in the ice water.
The cendol is ready!
How to make cendol drink:
Boil in coconut milk, pandan leaves with a pinch of salt
Grab another pan and make liquefied brown sugar by partially submerging it in boiling water. Add pandan leaves for fragrance. Once the sugar melts, keep stirring so that it does not burn at the bottom. Continue until it forms the preferred consistency.
First, put some ice in the glass. Then, scoop come cendol into the glass. Pour the sugar syrup (however much you like it). Finally, pour in the coconut milk. Enjoy!
There may be other drinks to enjoy while you are in Jakarta, but one of the most well known and easiest to find is Cendol or Dawet. This drink will be especially good to drink during the summer months, as it is refreshing and sweet to consume.
Have you tried making it? Share your experience in the comments section below.