Creativity and innovation in cooking is limitless. You can modify the ingredients and cooking methods, and voila; you might have just invented a new recipe!
There are many cooking methods and techniques that you can use in your kitchen. With oven, for example, you can bake cookies and cakes, roast chicken, grill meat, and many more. With a Teflon pan, you can cook omelet (obviously), cook Martabak, and even pizza. Did you also know that you can make various foods with your waffle iron?
Waffle irons just might be that magical cooking tool you've always hoped to be existed. Waffle irons are not just for making delicious, warm waffle for breakfast. If you've only used your waffle iron for waffles, you're seriously missing out.
Now, are you ready to make experiments with your waffle irons? Here we share 5 simple starter recipes with your handy dandy waffle iron. Go!
Grilled Cheese Sandwich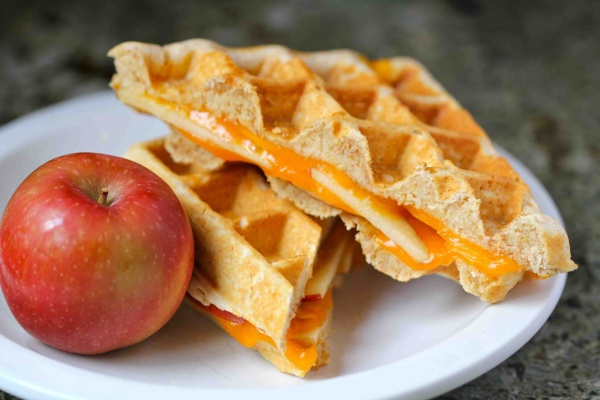 Ingredients:
2 slices sandwich bread
3 oz cheddar cheese
2tbsp salted butter (room temperature)
Instructions:
Preheat the waffle iron while you assemble the sandwiches. Spread one slice of bread with butter (only on one side—this is the side that will have direct contact with the waffle iron).
Place the cheese slices on top of the buttered slice of bread, then spread the other slice of bread with butter, only on one side.
Place the unbuttered side against the cheese, then place this entire sandwich on the waffle iron. Close the top of the waffle iron, however do not press down and smash the sandwich. Let cook for 3-5 minutes until the bread is brown and crispy and the cheese has melted. Enjoy while it's hot.
Feel free to add your favorite spread, meat, or sauce on the bread.
Omelet Waffles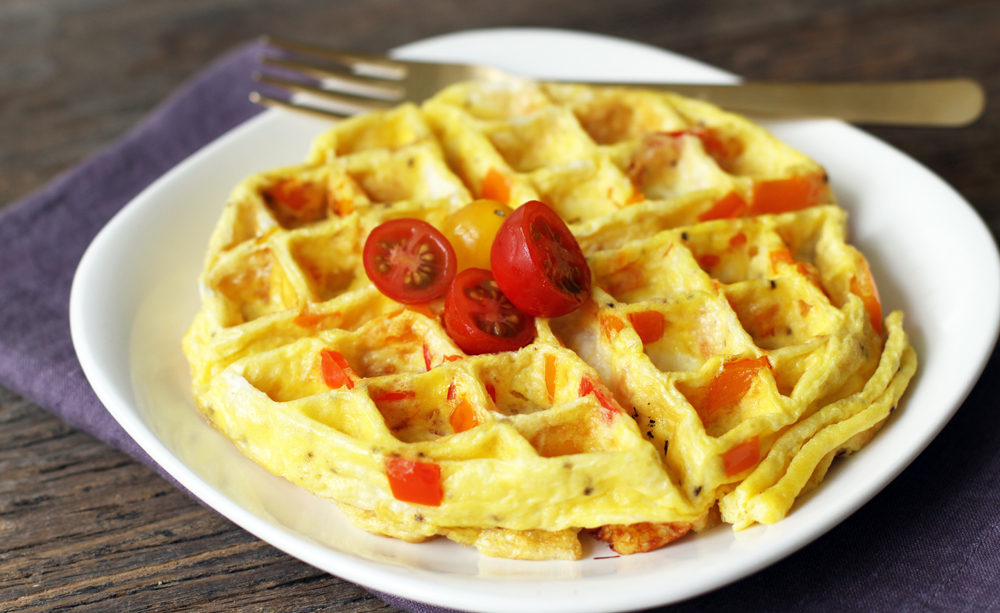 Ingredients:
2 eggs
Bell peppers (any color of your choice)
Roma tomatoes
Yellow onions
Your favorite vegetables, dice
Salt and pepper to taste
2 tablespoon fresh milk
Instructions:
Wash and dice the vegetables into small dices
Crack 2 eggs into a bowl and add salt and pepper for seasoning
Add 2 tablespoons of milk to eggs and whisk together using fork. Fold in vegetables, mix well.
Add egg and vegetables to waffle iron and cook until eggs are firm (no need to pay attention to waffle iron timer)
Serve with fresh tomatoes and top with shredded cheese if you like.
French Toast Churro Sticks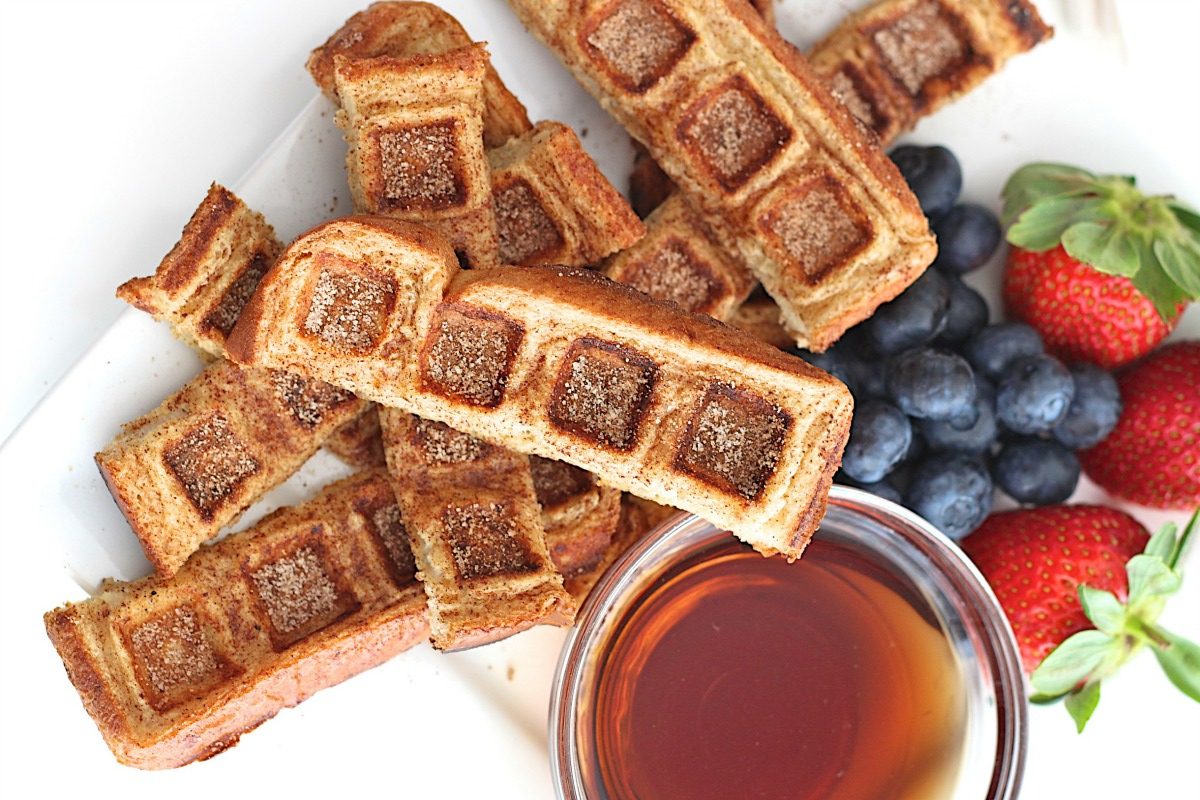 It's not French toast but not churro sticks either—but it brings the best of both worlds.
Ingredients:
4 slices bread
1 large egg
¼ tablespoon cinnamon
30 gram sugar
60 ml milk
40 gram breadcrumbs
50 gram cream cheese
1 tablespoon maple syrup
Oil for waffle iron
Instructions:
Preheat your waffle iron. Mix the cinnamon and sugar in a shallow bowl.
Cut the bread into even sticks (around 2 cm wide). In a shallow dish, whisk together eggs and milk. Soak bread pieces (as many as will fit into your waffle iron) in the milk mixture, then coat in breadcrumbs.
Lightly grease both sides of waffle iron and add the French toast pieces. Be careful to not have them touching each other. Cook until browned and crispy but not dried out around 3 minutes.
When the pieces are done, immediately dredge them through the cinnamon and sugar mixture. Set aside.
Proceed with the remaining bread pieces the same way.
To make the deep, mix the cream cheese with maple syrup and enough milk to give it creamy but not liquid consistency. Serve along with the French toast churro.
Be free to use your other favorite dipping.
Waffle Iron Margherita Pizza
What about warm, crispy pizza for this evening's snack?
Ingredients:
Pizza dough (see the recipe here https://www.indoindians.com/whole-wheat-pizza-dough/ )
2 cups red sauce
2 cups mozzarella cheese
1 cup parmesan cheese
One bunch of basil
2 tablespoons pizza seasoning
Instructions:
Heat your waffle iron to the highest setting
Grease the waffle iron with non-stick spray
Take the pizza dough and shape it with your hands into circle about the size of your waffle iron, but slightly smaller.
Place the dough on your waffle iron. Shut the iron and let the dough cook for about 2 minutes.
Open the waffle iron and add toppings (sauce, cheese, basil and seasonings, parmesan cheese)
Shut the waffle iron and let cook for 3-5 minutes or until the dough is cooked through and crispy.
Serve hot with a cup of your favorite drink.
Waffled Blueberry Muffin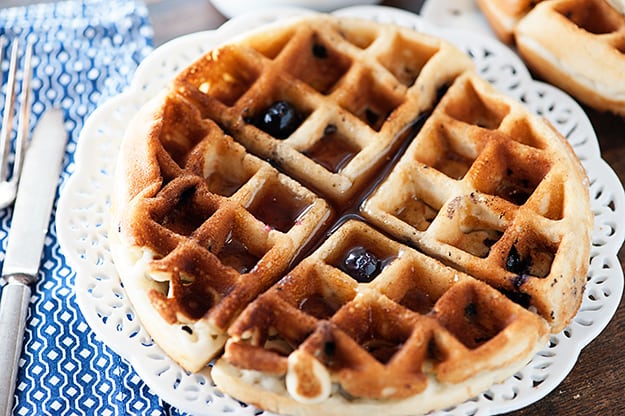 Make scrumptious blueberry muffin without even turning on your oven.
Ingredients:
½ cup vegetable oil
1 cup whole milk
2 eggs
1 cup sugar
1 2/4 cups flour
1 teaspoon baking powder
1 cup fresh or frozen blueberries
Instructions:
Preheat the waffle iron to medium high heat.
In a large bowl, whisk together oil, milk, eggs, and sugar. Add flour and baking powder and stir until well combined. Fold in blueberries, mix well.
Spray the waffle iron with cooking spray. Fill the iron with about ¾ cup of batter (or depends on the size of your waffle iron) and cook until golden, about 2-3 minutes.
Carefully wipe off any blueberries that stuck to the iron before adding more batter for your next waffle.
Serve with butter and maple syrup. Enjoy!
Have you ever tried cooking other recipes with waffle iron? Share your recipe with us!
Waffle Iron Idlis.
Grease W.I. pour half ladle idly batter.spread green or coconut chutney.pour another half ladle batter. Cover till cooked. Delicious stuffed idlis.
Many variations can be done on this idli. Use shezwan sauce. Just a tempering of mustard, chillies n curry leaves in batter. Gun powder (molagapodi) all tried and tested. Very good
~as shared by Vasanthi Ram