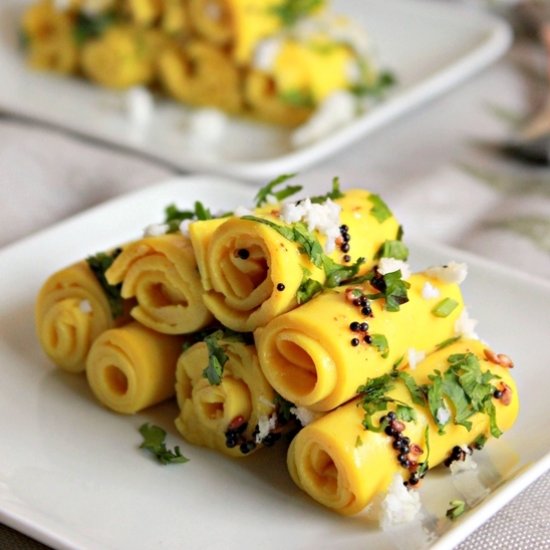 Serves: 4
Ingredients:
1/4 kg. gram flour
1/4 kg. curd
500 ml. water
salt to taste
4 green chillies, ground to a paste
1/4 tsp. (1 g.) cummin seeds
For the garnishing:
2tbsp. (30 g.) coriander leaves
chopped; 1 tbsp. (15 g.) grated
coconut; 1/2 tsp. (2gm) mustard
seeds; 1/2 tsp. (2 ml.) oil
Directions:
Add gram flour to the curd, mix well to a smooth paste.
Add chilli paste, cummin seeds, salt and water and keep stirring on medium heat for 10 minutes till it forms a thick paste.
Spread a little gram flour paste in a plate or a tray in a thin layer and keep it aside.
When cool, roll it and cut into pieces.
To prepare the garnish:
Heat oil and season with mustard seeds.
When they splutter, pour the seasoned oild over the khandvi pieces.
Sprinkle coriander leaves and coconut over it.
Serve at room temperature!
Nutritive value of each serving: Calories: 272.9 k cal.