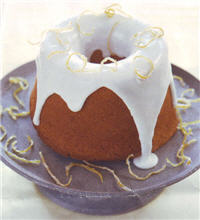 I love everything about lemons, the smell, taste and color. It epitomizes freshness and zest! This lemon yogurt cake is the perfect summer dessert and even tastes better on the second (and third) day after baking.
For those interested in making a healthier version of this, you can use fat-free yogurt and a sugar substitute  add about 10 minutes to your baking time.
Ingredients:
Cake
175ml yoghurt
zest and juice of 1 lemon
175ml oil
350m1 castor sugar
3 eggs, lightly beaten
1t vanilla essence
350ml self-raising flour
Icing
1 cup icing sugar, sifted enough yogurt to make a thick icing crystallized lemon zest, for decoration*
For the cake, beat the yogurt, zest and juice, oil, sugar, eggs and vanilla together. Sift over the flour in two batches and fold in gently. Pour into a greased bundt tin and bake at 18O'C for about 25 minutes or until a skewer comes out clean.
To make the icing, mix the icing sugar and yogurt and pour over the cake.
Decorate with crystallized lemon zest.
– Boil the desired amount of lemon peel, covered with water until it is soft enough to push a match through. Strain. Simmer equal amounts of water and sugar together, stirring to dissolve the sugar. Add the lemon peel and simmer in the syrup for 25 minutes. Strain and leave on a drying rack to dry, then roll in caster sugar, Store between layers of wax paper in an airtight container.