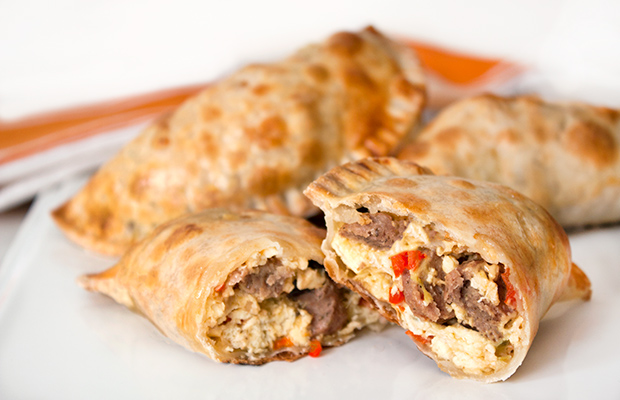 Forget toast, cereals, or bagels for a while and switch into these delicious and simple empanadas, very similar to samosa, to fill you up in the morning. Empanada dough has only a quarter of the fat and half the calories of buttery breads, plus it's way less messy to eat.
Ingredients:
8 frozen empanada wrappers, thawed
3 eggs
5 egg whites
¼ teaspoon salt
¼ teaspoon black pepper
½ red bell pepper, minced
3 scallions, minced
Cooking spray
7 ounces cooked chicken breakfast sausage links, cut crosswise into ¼ inch pieces. You can replace this with mushrooms, vegetables (carrots, potatoes, or others)
½ cup low-fat Swiss cheese, grated (optional)
Egg wash (1 egg whisked with 1 tablespoon water)
Directions:
Preheat oven to 425° F and line a baking sheets with parchment paper.
Whisk together eggs, egg whites, salt and pepper in a medium bowl. Stir in bell pepper and scallions.
Coat a large nonstick skillet with cooking spray and set over medium-high heat. Add eggs and cook, stirring constantly, until eggs just begin to set but are still very loose, about 1 minute. Stir in sausages and cheese.
On a lightly floured surface, roll out each empanada wrapper into a 7-inch circle. Scoop 1/3 cup of filling in the center of each wrapper. Fold each wrapper in half to enclose the filling and crimp edges closed with a fork. Cut two ½ inch slits on the top of each empanada and transfer to the baking sheet.
At this point, you can freeze the empanadas then transfer them to a freezer storage bag. Bake as usual when ready.
Brush the egg wash over the tops of the empanadas. Bake on the middle rack until golden, about 15 minutes.
More #MakeAhead Recipes here>>