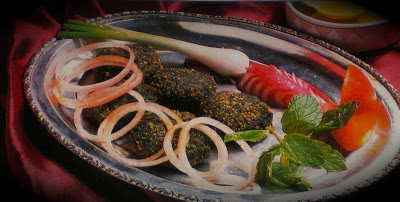 METHI AUR PALAK TIKKI
Ingredients:
500 g spinach, chopped
200g fresh fenugreek leaves, chopped
100 g onions, chopped
50 g garlic chopped
50 g bread crumbs
20 g fresh coriander leaves, chopped
5 g green chilli, chopped
2 g shah jeera
salt to taste
oil for frying
Directions:
CHOP fenugreek, rub with salt and wash.
Wash spinach.
Slice and brown onions.
Boil fenugreek leaves and spinach. Squeeze out the water and chop.
Add rest of the ingredients and make tikkis.
Shallow fry in oil.