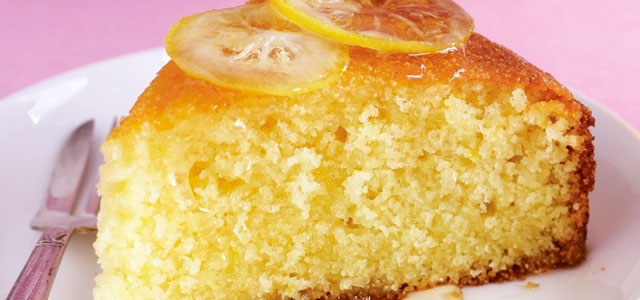 This Greek semolina cake is named for the use of semolina flour. With moist sponge cake, it is generously doused with orange zest-flavored syrup and sprinkled with lemon zest. As you would expect, the test is fresh and citrus-y. The cake is not difficult to make and is a delightful addition to any dining table.
Ingredients :
125g butter

1/2 cup caster sugar

11/2 tablespoons grated orange rind

2 eggs

2 tablespoons orange liqueur (optional)

1 cup semolina

1 teaspoon baking powder

1 cup ground almonds
whole blanched almonds for decorating

1 cup yogurt

2 oranges, peeled and cut to small pieces
Syrup :
1/2 cup caster sugar

1 cup freshly squeezed orange juice
Place sugar and Orange Juice in a saucepan. Bring to the boil and boil for five minutes. Cool slightly before pouring over the cake.
Directions :
Preheat oven to 180°C. Grease and line a 20cm round tin.

Cream butter, sugar and orange rind until light and fluffy. Add eggs one at a time, mixing thoroughly. Stir in orange liqueur if using it.

Combine the semolina, baking powder and ground almonds and fold lightly into the creamed mixture. Turn the mixture into the tin and arrange whole almonds on top.

Place in oven and bake for 30 minutes or until skewer comes out clean. Remove cake from oven and pour prepared syrup over hot cake. Allow to cool in tin before removing.

Serve cake with yoghurt topped with orange pieces.