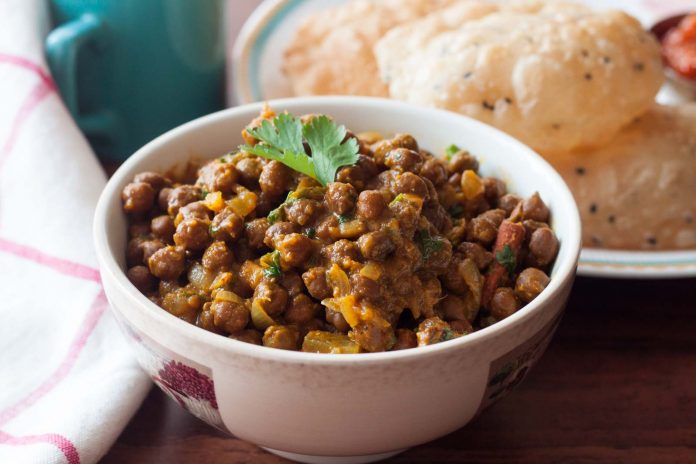 Pindi Chole is a classic punjabi street food that consists of chana that is mixed with herbal spices. Although it's a street food, it is very healthy as it is protein-rich, gluten free and vegan at the same time. Try it out!
Ingredients:
1 glass chana

Pindi Chole by Anju Malhotra

1 tsp tea leaves
2 tbsp onion paste
1 1/2 tomatoes puréed
1/4 tsp hing
1 tsp roasted jeera powder
1 tsp amchur powder
1 tsp dhania powder
red chilli powder to taste
pinch of garam masala
some oil
For seasoning:
1 small onion, quartered
1 tomato quartered
long green chillies, sliced
ginger juliennes
Directions:
Soak chana overnight or minimum 8 hours.
Boil in pressure cooker with 3 times water, salt and a potli/muslin cloth filled with tea leaves.
Heat oil, add onion paste, brown it then add pureed tomato and cook till oil separates.
Add dry masalas, hing, roasted jeera powder, amchur, dhania powder and chilli powder. If you want spicier taste, can add garam masala too.
Add little bit water from the cooked chana to mix the dry masalas well with the onion tomato paste.
Add the chanas with around 1/2 cup of the chana water, cook it covered till everything mixes well.
Mash some of the chanas at the bottom of the pan. You can add more water depending on how much gravy you want.
For Seasoning:
Heat some oil, add quartered slices of onion, tomato, green chillies, ginger julienes and chilli powder as per taste to give color.
Put the chanas in a serving bowl, mix in 1 tbsp sweet tamarind chutney and pour the seasoning on top.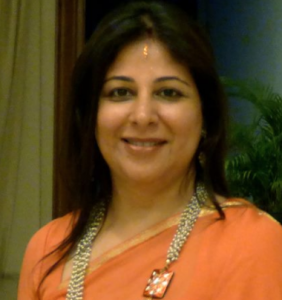 Recipe shared by Anju Malhotra
What do you think of the recipe above? Share your experiences making this recipe on the comments section below!