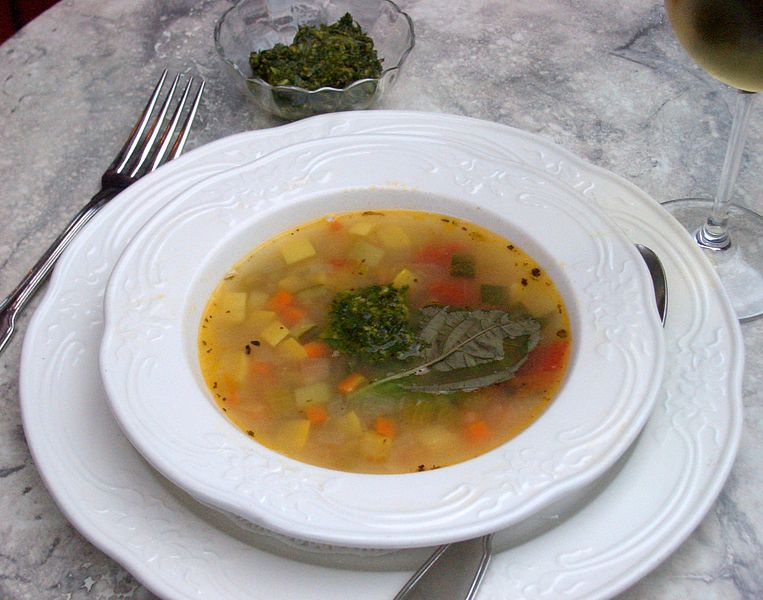 With the tropical weather in Indonesia, pistou vegetable soup is something suitable for you to eat in a hot day. Originating from France, this soup is intended for summers as it uses herbs and vegetables that are harvested during the hot summer months. Try it out and let us know what you think!
Ingredients :
1 lb. dried white beans, cooked
1 Tbsp. olive oil
2 onions, chopped
4 cloves garlic
3 carrots, chopped
1 celery rib, chopped
4 potatoes, diced
28 oz. whole tomatoes, diced
1/4 head cabbage, shredded
8 leaves kale, shredded
6 cups chicken broth, canned or homemade
1 tsp. thyme
Salt and pepper to taste
Directions :
Puree half the beans in your food processor and set aside.
In a large pot, heat olive oil and saute onion and garlic for about two minutes or until translucent. Add carrot, celery and potato and saute another 2 minutes.
Add tomatoes and their liquid, beans, bean puree and seasoning. Let simmer 5 minutes.
Add chicken broth to the mixture (sooner if it seems to be drying out).
Add cabbage and kale, correct the seasoning and simmer until veggies are completely tender.
Serve with a dollop of pesto (either homemade or readily prepared from a jar) on the top.
Serves 12. Per serving: 114 calories, 2g fat, 6g protein, 19g carbohydrate, 5g dietary fiber, 0mg cholesterol, and 419mg sodium.