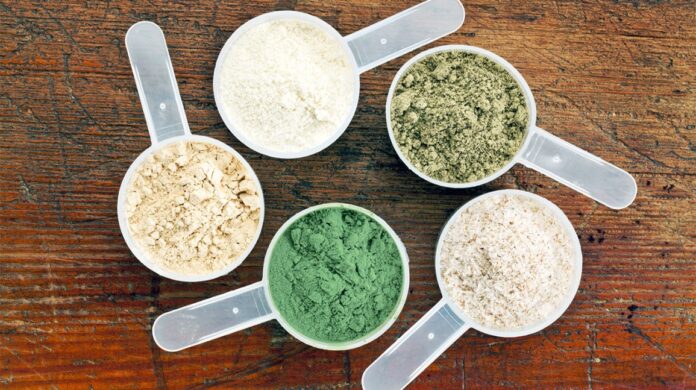 Protein powders have become popular among people who are health-conscious. It is especially popular for those who are interested in building their muscles. Luckily, there are many types of protein powders for you to choose from and each has its own purpose. Other than that, you also need to be aware of how to choose your protein powder.
Type of protein powder
Protein powder is one of the quick ways to meet the nutritional needs of protein that is used to lose weight and improve sports performance. Given that there are many variants of protein powder, many people are confused about which one is suitable. That's why it's important to know the differences between each protein powder available and how to choose a protein source.
Whey protein
Whey protein or whey protein is one of the commonly used protein powders. This protein contains all kinds of essential amino acids and is easy to digest. This ingredient can help increase energy and relieve stress.
You can add whey protein to soft drinks or foods, such as smoothies. Many people choose this protein powder to improve sports performance and overcome nutritional problems.
2. Soy protein
Soy protein is sourced from vegetable protein, such as nuts. Even so, the benefits are not inferior to whey protein. The reason, soy protein can help reduce high cholesterol and relieve menopausal symptoms.
Not only that, some people choose protein powder from soy because it can help build bone mass. The benefits of this one make soy protein popular with people who have osteoporosis.
3. Casein protein
Just like whey, casein protein is a protein found in milk. However, casein is digested and absorbed more slowly as it produces a gel when it interacts with the stomach acid.
Casein can slow gastric emptying and delay the absorption of amino acids into the bloodstream. That way, you can gain muscle mass gradually and steadily thanks to the amino acids in it.
4. Egg protein
Eggs are one of the best sources of protein for the body. Unfortunately, eggs in the form of protein powder may be less filling. This is because egg protein is made from egg whites.
The protein quality of this protein powder is still good, but the high-fat egg yolk has been removed. As a result, you may experience a feeling of fullness that quickly disappears when choosing this protein powder.
5. Brown rice protein
For those of you who are on a vegetarian diet and want to add protein sources, try choosing brown rice protein powder. Brown rice protein is a protein powder derived from brown rice.
However, this protein powder is considered less effective in building muscle. This is because brown rice protein is low in lysine to become a complete protein. Even so, brown rice protein still has all the essential amino acids.
6. Hemp protein
Hemp protein is a protein powder made from flaxseed with a high content of omega-3 fatty acids.
This plant-based protein powder is also rich in several essential amino acids needed by the body. However, this type of protein powder contains very low levels of the amino acids lysine and leucine.
7. Pea protein
Pea protein, including the type that is easy to digest and more economical. This variety is made from yellow peas, which are high-fiber legumes that are good for the body, but don't offer all the essential amino acids.
This pea protein is also rich in BCAAs. This means that you can choose this protein powder to help build muscle and improve sports performance.
Tips for choosing protein powder
After knowing what types of protein powders are available, of course you already imagine how to choose this protein source? To make it easier, here are some tips that can help you choose a protein powder.
Customize your needs
The first step when choosing a protein powder is to adjust to your needs. For example, you can use protein powders with the highest biological value when it comes to increasing muscle mass, such as whey protein and whey isolate.
Biological value is a measure of how well the body can absorb and utilize protein. Meanwhile, people who want to lose weight may be able to consume protein shakes without added sugars such as dextrins/maltodextrins. Also try to avoid protein powders that contain branched chain amino acids (BCAAs). This amino acid can help promote muscle growth and gain weight.
2. Match with current diet
In addition to the goal, you also need to choose a protein powder based on the diet you are currently living.
People on a vegan diet may need to stay away from dairy-based proteins, such as whey protein. Instead, you can use 100% plant-based protein – soy or pea.
If necessary, please consult a dietitian before buying protein powder to adjust your diet.
3. See the health condition of the body
Not only healthy people who want to drink protein shakes, but those of you who suffer from health problems are also recommended to consume it in order to complete your daily dose of protein needs.
Nevertheless, you still need to be careful when choosing protein powder considering there are many considerations that need to be faced.
For example, diabetics are encouraged to consume protein shakes without added sugar which are listed as one of the first three ingredients. Instead, look for a low-carb shake.
Not much different from diabetes, kidney disease patients need to choose a protein powder with a low protein content.
This is because their kidney function cannot tolerate a lot of protein at one time. To be safer, choose protein with a range of 10-15 grams per serving.
People who have digestive problems, such as irritable bowel syndrome (IBS) or lactose intolerance also need to be careful.
They should choose a protein powder that does not contain lactose sugar or artificial sweeteners. If you have a gluten allergy or sensitivity, try a gluten-free protein powder agar.
Most Popular Protein Powder Brands
L-Men 2 GO
BSN Syntha 6
Dymatize ISO 100 Hydrolyzed
Optimum Nutrition: Platinum Hydrowhey
THG: Myprotein Impact Whey Isolate
Puro Pure Nutrition: ISOPRO Grass Fed Whey Isolate
Nutrifood: L-Men Platinum
Optimum Nutrition Gold Standard 100% Whey Protein Powder
Muscle Pharm Combat Powder
Optimum Nutrition Serious Mass
MuscleTech NitroTech Whey Gold 6 lbs
Abbott EAS Myoplex Whey Protein
FitMiss Delight Whey Protein
Cellucor COR Performance Whey Protein
PVL Mutant Whey