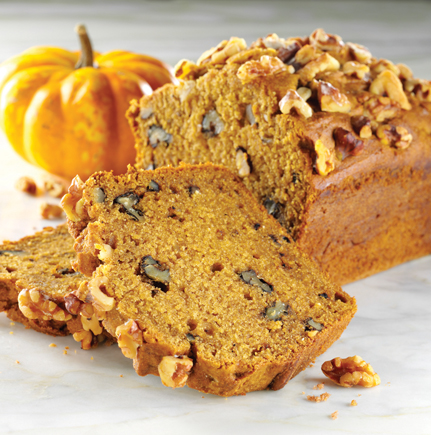 Try this wonderful pumpkin and walnut bread which is perfect with a cup of hot coffee.
Ingredients :
1/2 cup honey
1 cup canned pumpkin puree or you can just boil/bake your pumpkin and puree in the blender
1/4 cup vegetable oil
1 tsp vanilla
2 eggs
1 1/2 cups whole wheat flour
1/2 cup coarsely chopped pecans
2 tsp baking powder
1/2 tsp ground cinnamon
1/4 tsp salt
Directions :
Heat oven to 350 degrees. Lightly grease an 8″ or 9″ loaf pan.
In a large bowl, blend honey, pumpkin, oil, vanilla and eggs. Stir in remaining ingredients.
Pour into prepared loaf pan. Bake 50 to 60 minutes or until toothpick inserted in center comes out clean.
Cool 10 minutes. Loosen sides of loaf from pan remove from pan. Cool completely on wire rack before slicing.
Makes one 12-slice loaf.
Per slice serving : 116 calories, 5g fat, 2g protein, 16g carbohydrate, 4g fiber, 16mg cholesterol, and 69mg sodium.