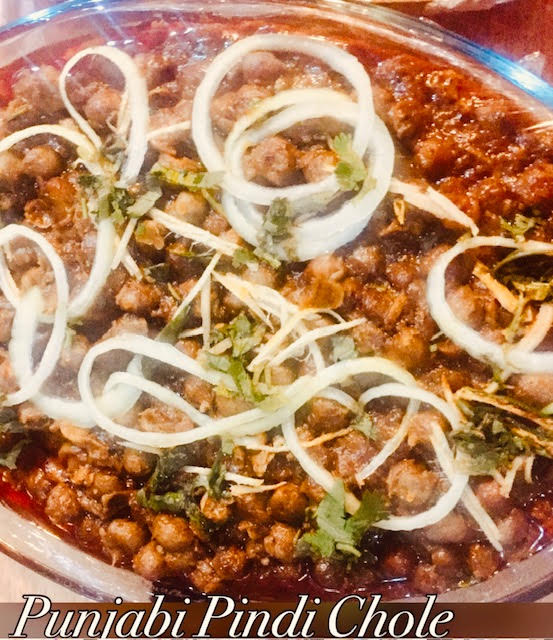 Pindi Cholas or Pindi Chole is a food that is originated from Punjab. This delicious, nutritious, fuss-free dish is particularly different due to its unique cooking methods that uses ingredients like kabuli chana, chana dal and being cooked with tea leaves. It is also known for its deep blackish-reddish color that sets it apart from other pindi cholas around the country. Best of all, this dish is protein-rich, vegan and gluten free.
INGREDIENTS:
White Kabuli Channa– 1 1/2 cup
Tej Patta-2
Tea Bag-1
Oil & Ghee
Ginger- julienned
Green Chilies- slit length wise
INGREDIENTS FOR MASALA
Powdered Jeera– 2 tsp
Powdered Dhania– 1 tsp
Kala Namak– 1/4 tsp
Salt- 1 tsp ( to taste)
Pepper-1/2 tsp
Anardana Powder- 1 1/2tsp
Amchur– 1 tsp
Red Chilli Powder-Spicy – 1/2 tsp
Kashmiri Red Chilli Powder- 1 tsp
Haldi– 1/4 tsp
Garam Masala Powder- 1 tsp ( homemade)
TARKA & TOPPING
Ghee
Ginger- julienned
Green Chilies- slit length wise
Kashmiri Red Chili powder- 1/2 tsp
Garam masala powder- 1/2 tsp
Onion Rings OR Tomatoes-1 quartered for decoration ( optional)
Fresh Green Coriander Leaves
Method:
PREPARATION
White Kabuli Channa-1 cup Immerse completely and soak in water overnight
Next morning throw away the water and wash thoroughly.
Boil Channas in pressure cooker next day with I teabag ( or potli with tea. Make sure you don't tie with a rubber band), 2 Tej Patta & a little salt.
Channas should be whole yet soft.
Approximately 2 whistles on High and 15 mins simmer on LOW Flame
Drain Channas, mix in the prepared masala so that it's well coated and keep the water aside. Leave for 30 mins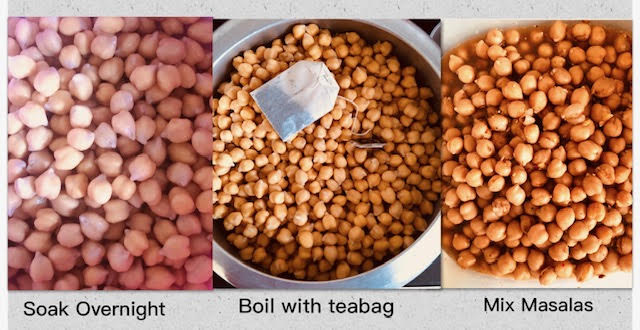 COOKING
Take a big Kadai
Add 2 tbsp oil & 2 Tbsp Ghee. Put in some juliennes of ginger and 2 slit green chilies.
Add in the Channas coated with the masala. Mix nicely.
Now add the channa water that had been kept aside.
Once it boils, lower the flame. Simmer and cook till water dries up and the Channas take in the masala.
Remove to a serving dish.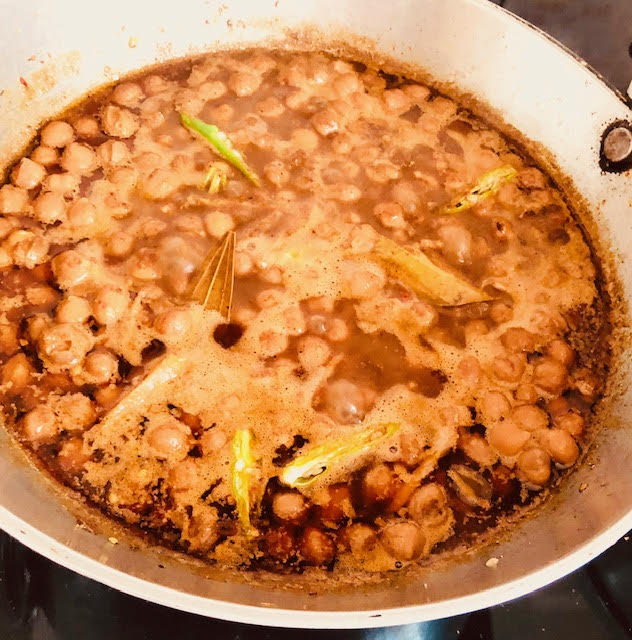 TARKA & TOPPING
Heat 2 Tbsp Ghee
Add the remaining julienned Ginger & slit Green chilies for a minute.
Switch off flame
Add the red chill powder and garam masala
Pour over the Channas
Decorate with onion rings / quartered tomatoes and hara dhania.
Serve with Bhatura or Kulcha.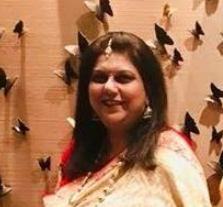 Shared generously by Radhika Oberoi