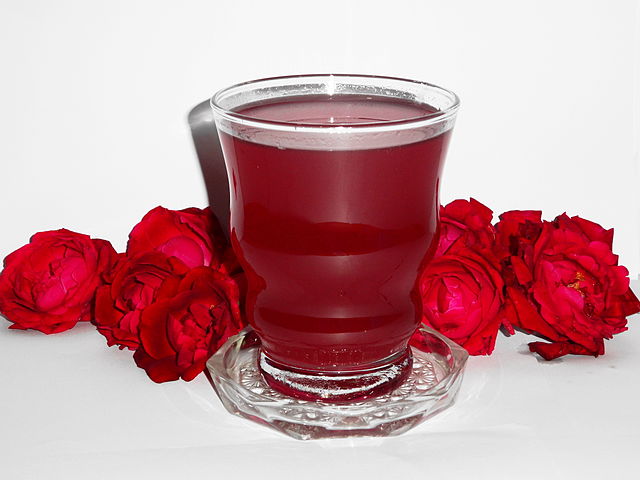 Sherbet "şerbet" is the world's first soft drink. Ottoman Turks drank sherbet before and during each meal. Sherbet is still a traditional cold drink in Turkey. It is believed that sherbet has healing effects. Sherbet is made from fruit juices or extracts of flowers or herbs, combined with sugar, water and ice or snow.
The rose sherbet is a really fragrant and refreshing drink.
Ingredients
1/2 kg granulated sugar
100 gms of red rose petals (desi variety). Use roses that are fragrant.
1/2 liter of water
1/2 tsp of Rose essence
5 tbsps of lemon juice
1 drop of pink food color
METHOD
Wash the rose petals gently in cool water to remove any dirt or insects
crush the drained petals with granulated sugar between your palms
Add lemon juice over the crushed rose petals and sugar mixture.
Add water and stir till all the sugar has been dissolved.
Cover the bowl and leave in the refrigerator for at least 4-5 hours.
Strain with a fine strainer and serve with ice cubes and garnish with a rose petal.
Add more water if too sweet.
Tip: Use fragrant, garden variety local roses which are very fragrant.