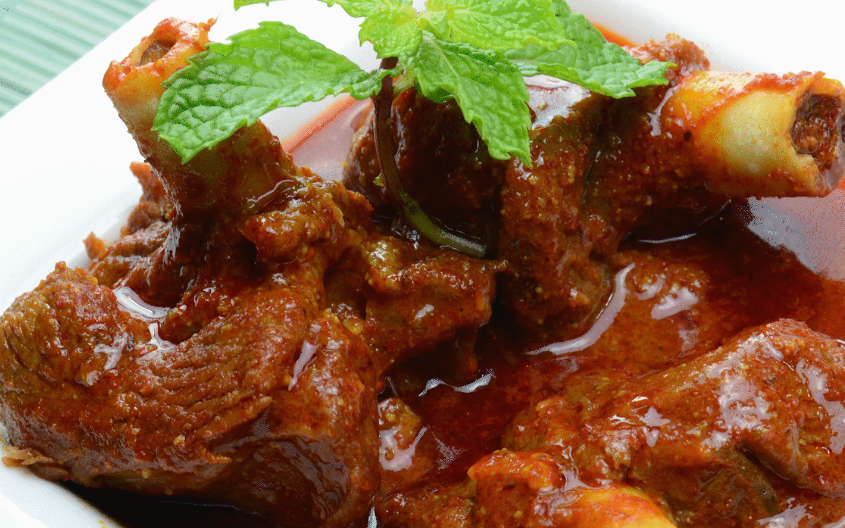 This is the go to recipe for a satisfying Sunday lunch with buttery Naan or crisp rotis. Really the most flavorsome and easy method to cook a wonderful mutton dish in your trusty pressure cooker.
(serves 4)
Ingredients:
500 gms boneless mutton (cleaned and cubed)
3/4 cup oil
4 potatoes boiled , peeled and cut into 4 pieces
3 large onions , peeled and cut into 4 pieces
8 / 10 cloves (laung)
Marinade:
1 cup yogurt 
2 tsp ginger paste
2 tsp garlic paste
10 tbsp chopped coriander leaves
10 / 12 tbsp tomato puree
1 tsp red chilly powder
1 tsp turmeric (haldi powder)
1 1/2 tsp salt
1 tsp cinnamon powder
Method :
Mix all the ingredients of the marinade in a pan. Add the mutton and mix well.
Marinate this mixture for about 1 hour.
Heat oil in a wok and stir fry the potatoes until golden brown. Remove from oil and keep aside.
In the same oil fry the onions until golden. Remove from oil and keep aside.
Heat the remaining oil add the laung, wait a few seconds and then add the meat mixture and stir.
Fry well for about 15 minutes or till the yogurt dries up.
Add 3 cups of hot water and transfer the meat into a pressure cooker. Pressure cook to give 2 / 3 whistles, after this lower the flame and cook on low heat for 20 minutes.
Remove from fire. After the pressure drops, open the cooker and add fried potatoes and onions and cook for another 5 minutes.
Serve hot with Naan bread or rotis, garnished with coriander leaves and slice of lime.
by Shabana Akbany