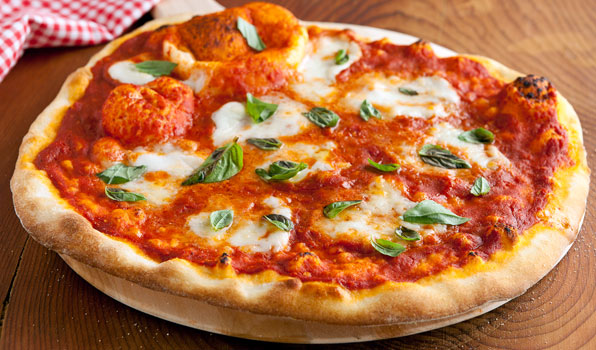 Pizza is probably the most popular Italian dish, and hails from Naples, the nation's third largest city. A Neapolitan pizza usually has a thin, soft but crisp crust and is around 30-cm wide.
Considered a peasant's meal in Italy for centuries we cannot say who invented the very first pizza pie. Food historians agree that pizza like dishes were eaten by many peoples in the Mediterranean including the Greeks and Egyptians.
However, modern pizza has been attributed to baker Raffaele Esposito of Naples. In 1889, Esposito who owned a restaurant called the Pizzeria di Pietro baked what he called "pizza" especially for the visit of Italian King Umberto I and Queen Margherita.
An all-time classic pizza is the Margherita, with the use of basil, mozzarella cheese and tomato representing the colors of the Italian flag. Authentic ones are made using local San Marzano tomatoes, buffalo mozzarella cheese and fresh yeast, and baked in a wood-fired oven.
However, it's actually quite easy and inexpensive to prepare pizza at home. Feel free to enrich the topping to your liking.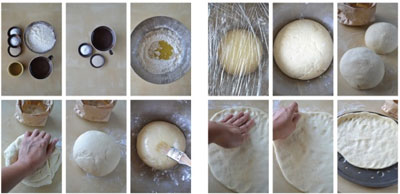 Makes 2 30-cm pizzas
Ingredients for Pizza dough:
500 g all-purpose flour + more for dusting
+/- 250 ml lukewarm water (35-40°C)
10 g dried yeast
1 teaspoon sugar
3 tablespoons extra virgin olive oil + more for brushing
1 teaspoon salt
Topping
200 g tinned tomato pulp
A pinch of salt
200 g mozzarella cheese
Basil leaves, to taste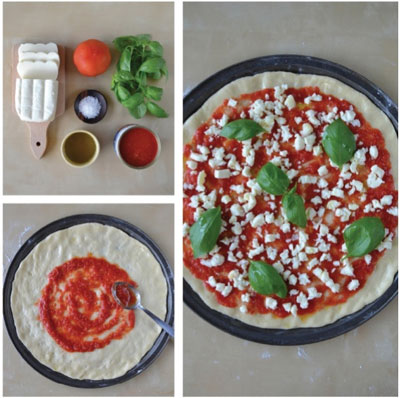 Method
Mix yeast and sugar with half of the water. Stir and let stand for 5 minutes until bubbles start to form.
Place flour in a large bowl and create a well on the center. Pour the yeast mixture, some salt and 3 tablespoons of olive oil.
Combine and gradually add the remaining water until the dough comes together. You need more or less 250 ml of water in total, depending on the air humidity level and the one of the flour.
Transfer onto a lightly floured working surface and knead for 10 minutes until you obtain soft and elastic dough. Work it by putting pressure on your palms and folding as if you're washing a cloth.
Shape the dough into a ball and lightly oil its surface. Return it to the bowl and cover with cling film. Let rest at room temperature for 2 hours until it's risen and doubled in volume.
Knock back the dough with your fist and divide into 2 equal-size balls. Cover loosely with the cling film and let rise for a further 30 minutes.
Flatten the dough balls with your fingers and pull the borders to stretch them into 3-mm thin discs with 30-cm diameter. Place them on round pizza trays, preferably with holes, for an evenly distributed heat.
Add salt to the tinned tomato. Otherwise, substitute with 500 grams of ripe tomatoes, peeled, deseeded and finely chopped. Tomato sauce is not an option!
Use a spoon to spread the tomato pulp onto the pizzas with circular moves, leaving 2-cm of border.
Crumble or thinly slice mozzarella cheese and distribute evenly. Add fresh basil and finish with a swirl of olive oil.
Bake for about 10 minutes in a preheated conventional oven at 250°C (maximum heat) until the cheese has melted and the crust is golden. Serve immediately.