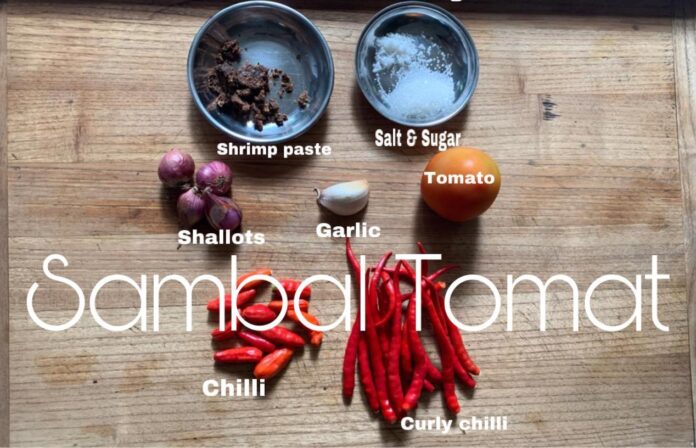 Sambal is chilli paste or sauce that is made by mixing different kinds of chili along with shrimp paste, garlic, ginger, shallot, scallion, palm sugar, or lime juice. There are different variations of sambal, which are quite easy to make at home.
In Indonesia, it has become one of the most popular condiments that many people reach for due to its versatility in being paired with other food combinations. However if sambal's spiciness is too much, you can make a tomato-based sambal which is spicy but still toned down compared to regular sambal variations.
Ingredients:
10 cabai keriting (chilies)
6 cabai rawit merah (cayenne pepper)
5 shallot
2 garlic
1 tomato
1 tsp terasi
1 tsp salt
1 Tbsp cane sugar
2 pcs daun jeruk purut (lime leaves)
Method:
Blend all the ingredients except daun jeruk purut.
Fry the mixed ingredients along with lime leaves until fragrant around, for about 20 minutes.
Ready!
shared generously by Gaby Pribadi.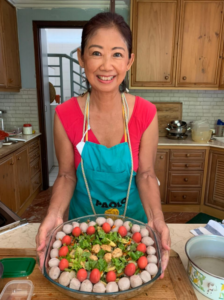 Gaby is 70yrs of age – a mom of two happy married sons and a joyful grandma with 4 grandchildren; 3 handsome boys and 1 pretty girl!
Since 2012 she has retired from my position as the Head of my Interior Contractor Company after 26 years!
Her life has been blessed and wonderful! She feels grateful for every moment, as she believes that everything happens for a reason and life has shapes you into becoming a wiser and better person!
Due to this pandemic, staying at home has been a splendid time! She keeps herself busy with with activities like reading, cooking, painting, orchid nursery .. and in the
morning yoga and meditation… sometimes Gaby joins the morning walk in her compound with some wonderful neighbors!
Peace & Smile