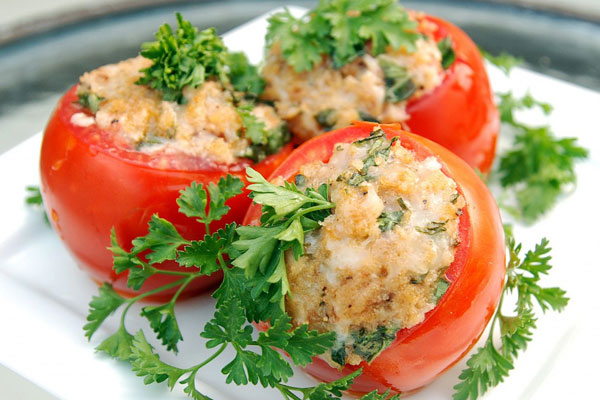 Serves: 4
Time required : 15 minutes
Ingredients :
2 tbsp Corn oil
1 tsp Cumin seeds
1 Onion, diced
2/3 Mushrooms, diced
1 tsp Chili powder
1 tsp Coriander powder
1 tsp Haldi powder (turmeric)
1 cup Cooked rice
2 tbsp Coriander leaves, chopped
Salt to taste
4 Tomatoes large and firm
Directions :
Heat oil in pan, add cumin seeds and cook until they pop. Add onions and saute until they are clear.
Add mushrooms and powdered spices and cook for 5 min.
Add rice, coriander leaves, and salt, mix and remove from heat.
Prepare the tomatoes by cutting off their tops and scooping out the flesh.
Fill the tomatoes with the rice mixture and serve at room temperature.
You could also grill the tomatoes slightly,if desired. Top with some cheese and grill till it melts.