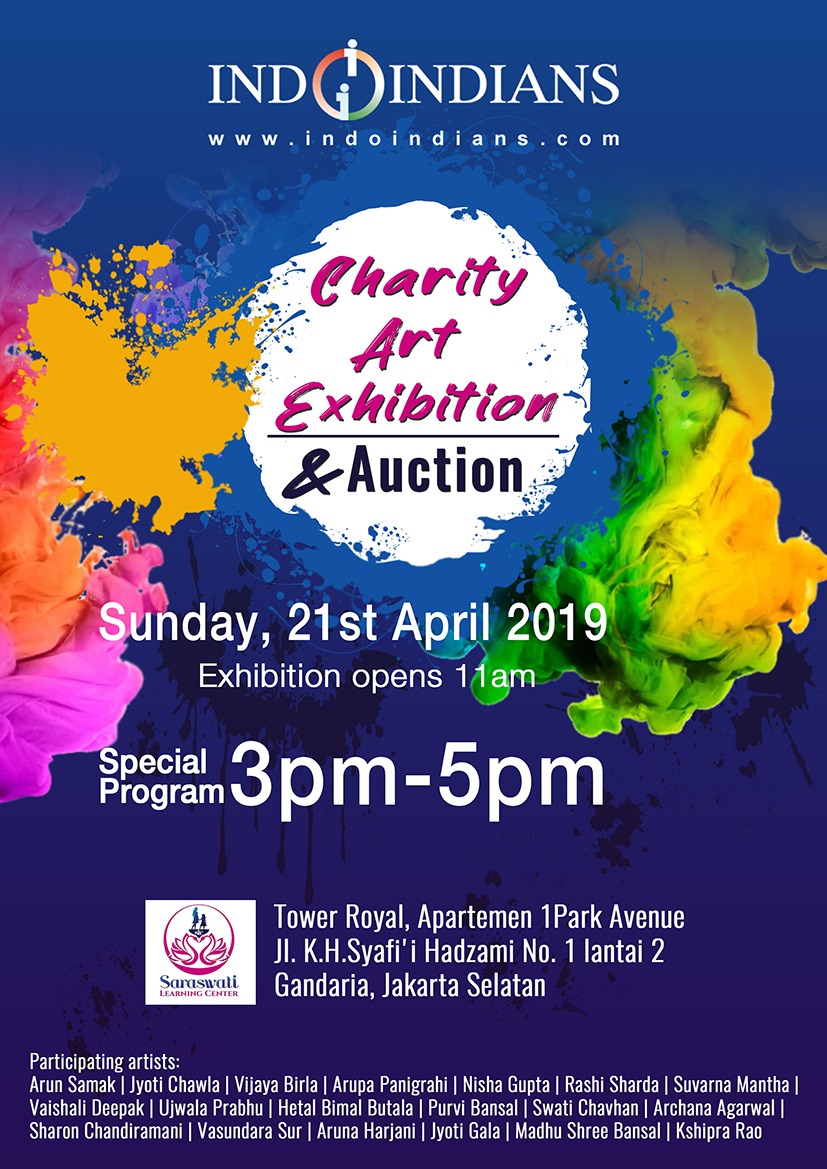 Saraswati Learning Center in Collaboration with IndoIndians Artists for  'The Art of Giving'- A Charity Art Auction
Vision: The vision for this Art Auction is to be able to provide a platform for all the inspiring painters in Jakarta to showcase their talent. Through this auction, we also wish to inculcate the beauty of 'giving' and encouraging a buddy system between all the inspiring artists in Jakarta with all the differently-abled individuals in Saraswati Learning Center.
This art auction will also create awareness regarding the abilities of the differently abled individuals by displaying their artwork for the auction. Bids are in months of sponsorship for children at SLC – Rp 750,000/month/child. So one can bid 6 months, 12 months etc
We also want to create a feeling of togetherness and be "one community" by bringing in the underprivileged differently-abled students to come to school and obtain educational services.
Concept Idea for the Charity Art Auction
'The Art of Giving-charity art auction' will bring together a group of painters who would like to showcase and sell their paintings at an art auction organized at SLC with the theme of 'The Art of Giving'.
Creating Art-Work and Awareness Together
The artists will come in as volunteers and be a buddy towards one child or a group of students at SLC which will be showcased and sold at the auction to raise funds for the less privileged special needs children. If the painters are not free to volunteer their time with the students, they can also choose to give a percentage of their profits made by selling their individual paintings.
The joint paintings can have the students with the painters explaining about their painting and sharing their experience about working with the painters. Thus creating awareness about their abilities in the field of art.
Thank you for your participation. The Registration is NOW Closed. 
Entertainment & Refreshments
On this day groups of children from SLC will perform on the stage set up by us. The people coming for the painting exhibition will also get to see the children performing.
SLC with the help of our volunteers and teachers will also put up interactive stations for the children who come in with their parents on that day. The people can also interact with the vocational students to make bracelets, paint rocks with them. There will also be food and water station provided by SLC.
We can also have a silent auction for all the paintings or have a call out loud for the paintings at the end of the program.
Date for the Exhibition/Auction – Sunday, 21st April, 2019
Venue: Tower Royal, Apartemen 1Park Avenue, Jalan K.H.Syafi'i Hadzami no. 1, lantai 2, Gandaria, Jakarta 12240  Google maps here >>
AGENDA
11 am Art Exhibition Opens
12 noon Lunch is served
1pm – 3pm Children's Painting Competition & Parents view exhibition, visit SLC stalls
Main Program 3pm – 5pm
3.15pm Introduction & Inauguration by VIP, speech for 5 mins & hand out hampers to participating artists
3.30 pm Vote of thanks by Reshma Bhojwani, founder SLC
3.35pm SLC performance
4 pm Auction
6pm close
SLC is very happy to collaborate with the IndoIndians Artists group. May this theme of 'giving' for the art auction inspire us and help us generate funds to bring the less privileged special needs students to school as 'the more we give, the more we receive!'
Sponsorship of the event
We are looking for generous sponsors who can help us to cover costs as well as who can be part of this project to bring about a change in the lives of the underprivileged differently abled students. You can choose to any of the following options for sponsorship >> Art of Giving Sponsorship letter