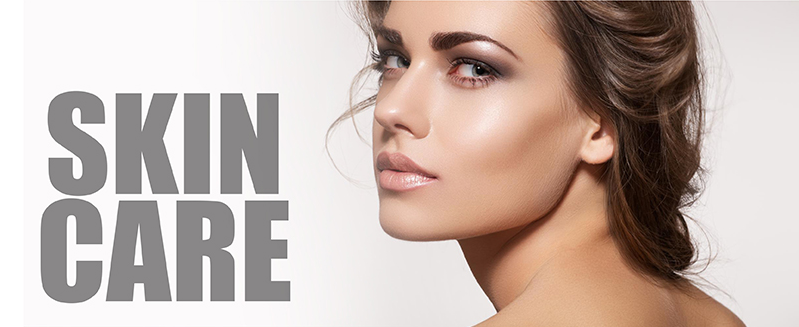 There are a few steps to perfect skin. A skincare routine must not be ignored. No matter the type of skin you have, cleansing, toning and moisturizing is something that must be done on a daily basis. Moisturizers will protect, moisturize and hydrate your skin from the modern harms of pollution and free radicals in the skin.
Oily skin
Oily skin people may feel that they do not need moisturizer due to their skin producing a lot of oil, but that is just a misconception. Moisturizers are something that is still very important for the skin, protecting the outer barrier of your skin, moisturizing it and minimizing the amount of sebum in the skin. Not wearing moisturizer might actually result more negatively on your skin, as dry skin will trigger more sebum to compensate for the lack of moisture on skin. Which is why although your skin is the oily variety, moisturizer is still a needed aspect of your skin.
The gel type variety will be ideal to the skin, as it is both lightweight but still hydrating to those with oily skin.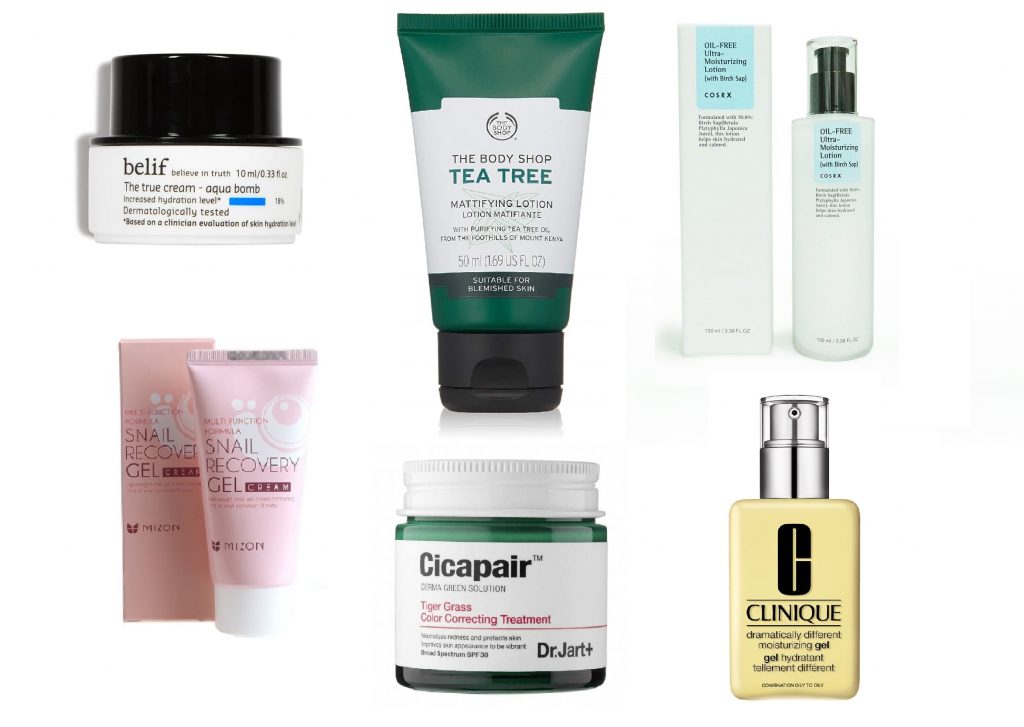 From top-left to bottom-right: belif – aqua bomb, The Body Shop – Tea Tree Mattifying Lotion, COSRX – Oil – Free Ultra-Moisturizing Lotion, MIZON – Snail Recovery Gel Cream, Cicapair – Tiger Grass Color Correcting Treatment, Clinique – Dramatically Different Moisturizing Gel
Dry skin
People who have dry skin are the people most in need of a hydrating moisturizer. Contrary to oily skin that needs hydration, people with dry skin need both moisture and hydration. Moisturizer is especially important to those with dry skin, as you are prone to premature wrinkles, irritation and scaly patches and flaking. A heavy, thick cream will be ideal for this skin type as the skin will receive nutrition. At the same time, a thick cream can prevent the moisture in the skin from evaporating in the air.

From top-left to bottom-right: Cetaphil – Moisturizing Cream, Klairs – Rich Moist Soothing Cream, NIVEA – Soft, CeraVe – Moisturizing Cream, Olay – Total Effects Day Moisturizer, KIEHL'S – Ultra Facial Cream 
Sensitive skin
On hindsight, sensitive skin may not seem so different other types of skin from dry, oily to combination. However sensitive skin are more likely to get large amount of redness and irritation. Those with sensitive skin should therefore be aware of skincare ingredients. Due to being more likely to being irritated, some of the ingredients that other skin types would tolerate will not be so tolerable on sensitive skin. Fragrance, parabens are just some of the things that people with sensitive skin should be aware of.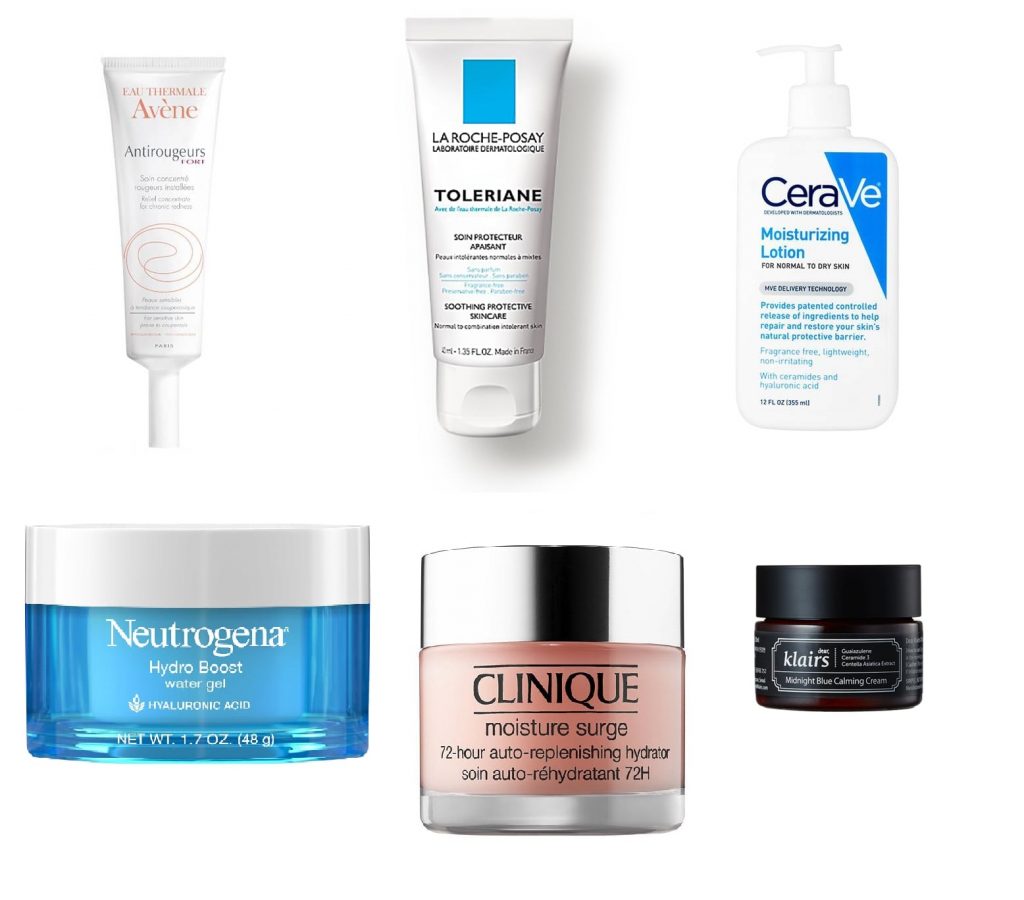 From top-left to bottom-right: Avène – Antirougeurs Fort Relief Concentrate (dry skin), La Roche-Posay Toleriane Soothing Protective Skincare (oily skin), CeraVe – Moisturizing Lotion (dry skin), Neutrogena – Hydro Boost Water Gel (oily skin), Clinique – Moisture Surge (dry skin), Klairs – Midnight Blue Calming Cream (oily and dry)
Combination skin
Amongst all of the skin types, combination skin is said to be the most difficult to take care of. Part of the reasons is because some part of the skin is oilier. Other parts of the skin leans more towards dry skin, in which some parts of the skin flake. Those with combination skin must either use two types of moisturizers or use a moisturizer that moisturizes but also controls sebum production at the same time.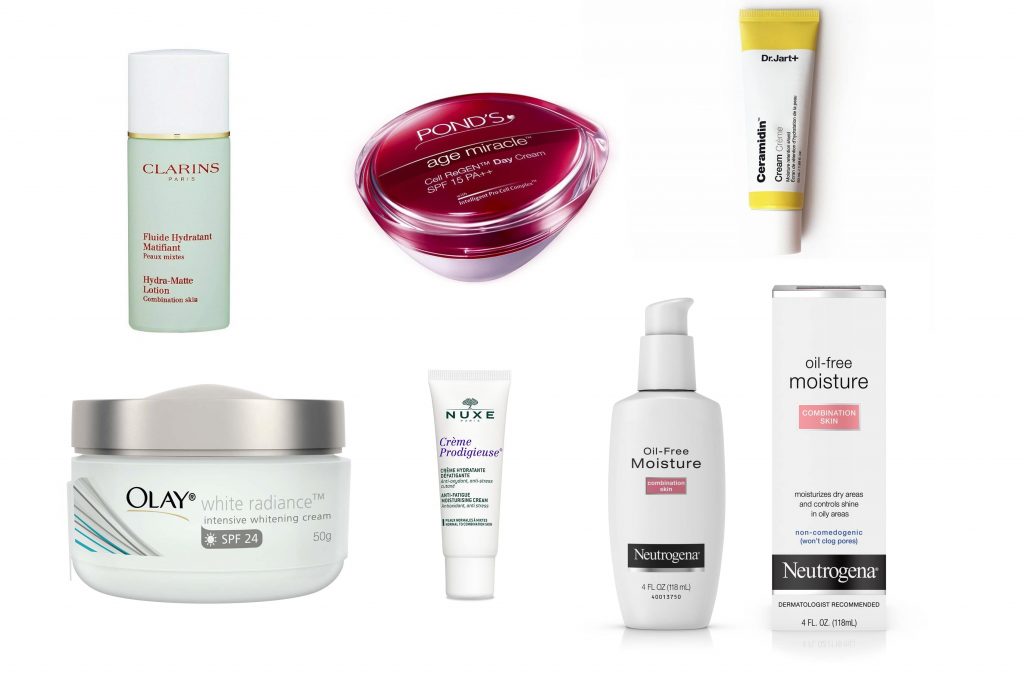 From top-left to bottom-right: CLARINS – Hydra – Matte Lotion, POND'S – Age Miracle, Dr. Jart+ – Ceramidin Calming Cream, OLAY – white radiance, NUXE – Moisturising Creams Crème Prodigieuse, Neutrogena – oil-free moisturizer
Normal skin
Normal skin is also something that is difficult to define. However it can be safe to generalize that there are a few key characteristics of normal skin type. It is neither oily nor dry, and would be easily resolved if the skin experiences such things. Other than that, pores tend to be small, not easily seen and are not engorged. Although there may be a few lines and wrinkles, the skin tone is much more even with no marked blemishes. Depending on the condition of your skin, you can choose moisturizers that have oil controlling properties or moisturize the skin more. However because your skin is already at the ideal state, maintaining it is crucial to prevent it from deteriorating. Try to choose moisturizers that have SPF content in it, so the skin would be protected and nourished at the same time.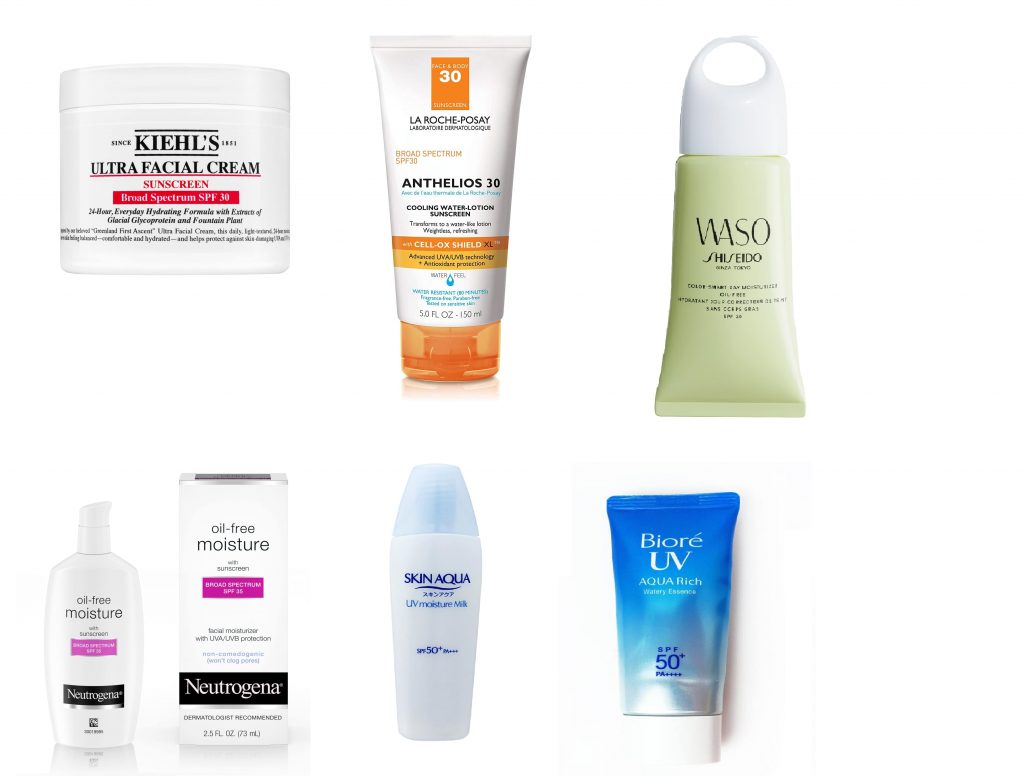 From top-left to bottom-right: KIEHL'S – Facial Cream Sunscreen Broad Spectrum SPF 30 (dry skin), La Roche Posay – Anthelios SX SPF 15 Moisturizer Mexoryl (dry skin), Shiseido – Waso Color-Smart Day Moisturizer (all akin types),  Neutrogena – Oil-Free Moisture Broad Spectrum SPF 15 (oily skin), Skin Aqua – UV Moisture Milk (all skin types), Biore – UV Aqua Rich (oily skin types)
Overall, this skin is quite unproblematic. Regular skincare routine should still be done, in order to prevent aging and maintain its health. Skincare that could be used are not the ones that are too drying nor are the skincare that are too greasy. It should be right in the middle, one that could keep your skin's epidermis healthy and looking good at the same time.