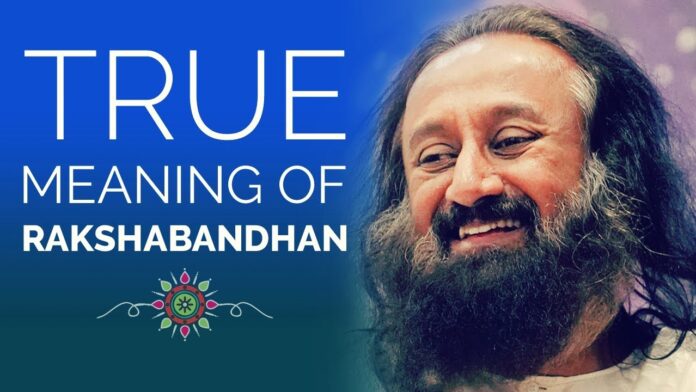 His Holiness Sri Sri Ravi Shankar says…
Rakshabandhan is celebrated on the full moon day of the month of Shravan (August). It is a day when brothers and sisters affirm their bond. Sisters tie the sacred thread on their brothers' wrists. This thread, which pulsates with sisterly love and sublime sentiments, is rightly called the 'Rakhi'. The brothers' in turn give their sisters' gifts and promise to protect them.  Rakshabandhan is celebrated in different forms and is also referred to as rakhri, baleva and saluno in different parts of India.
The tradition of tying Rakhi can be traced to various stories in Indian Mythology. According to one legend the Demon King Bali was a great devotee of Lord Vishnu. Lord Vishnu had taken up the task to guard King Bali's kingdom leaving his own abode in Vaikunta. Goddess Laxmi wished to be with her lord back in her abode.
She went to Bali disguised as a Brahmin woman to seek refuge till her husband came back. During the Shravan Purnima celebrations, the Goddess Laxmi tied the sacred thread to the King. Upon being asked why, she revealed who she was and why she was there. The king was touched by her goodwill and her purpose and requested Lord Vishnu to accompany her. He sacrificed all he had for the Lord and his devoted wife.
Thus the festival is also called Baleva that is Raja Bali's devotion to the Lord. It is said that since then it has been a tradition to invite sisters in ShravanPurnima for the thread tying ceremony or RakshaBandhan.
There are three types of bandhan or ties :
Satvicbandhan ties you with knowledge, happiness and joy.
Rajasicbandhan ties you with all kinds of desires and cravings.
In Tamasicbandhan, there is no joy but still you feel some kind of connection.
Rakshabandhan is said to be a satvicbandhan whereby you tie yourself in with everybody, with knowledge and love.
On Rakshabandhan day, the festivities start at daybreak. After invoking the blessings of the Gods, the sister performs the brother's aarti, puts tika and chawal on his forehead and ties rakhi on his wrist while chanting mantras. Then she gives him sweets and gifts.
The brother accepts her offerings and vows to take care of her and be by her side in the time of need and gives her a token gift.
The Rakshabandhan ceremony ends here and the celebrations begin. The family reunion itself is the reason for celebration. Rakshabandhan if taken in the true sense encompasses love, peace and protection.
Although, now it is considered as a festival for brothers and sisters it was not always so. There have been examples in history wherein rakhi signified raksha or protection. It could be tied by a wife, daughter or mother. The Rishis tied rakhi to the people who came seeking their blessings. The sages tied the sacred thread to themselves to safeguard them from evil. It is the 'Papa Todak, PunyaPradayakParva' or the day that bestows boons and ends all sins as it is mentioned in the scriptures.
www.artofliving.org
The author is a humanitarian leader and the founder of The Art of Living organization.
He can be followed on @srisri (on Twitter) & facebook.com/SriSriRaviShankar (Facebook)