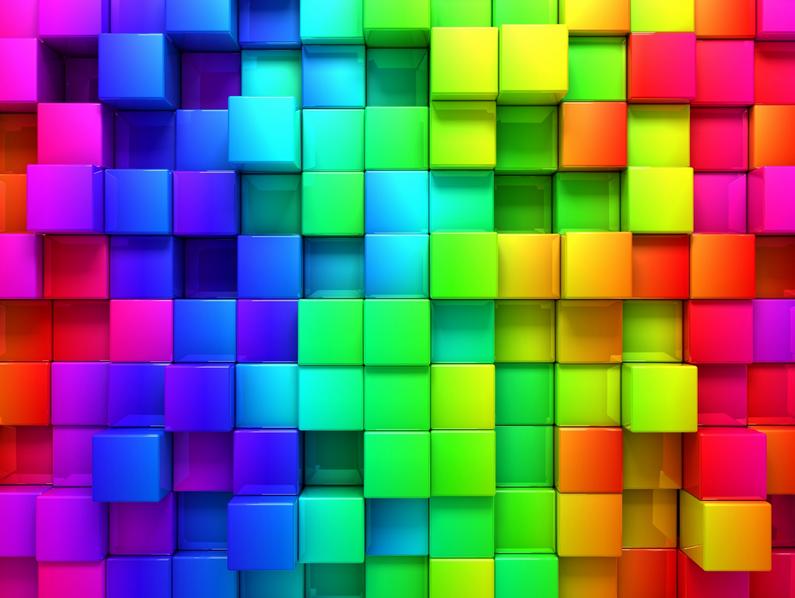 The main component of fashion is Color. Fashion Fengshui deals with the  vibrations of the colors as well as the numerology of colors
Why is it that an off-the-shoulder top looks good on that skinny neighbor and looks awful on your skinny shoulders? It could be attitude and the way she carries it, or it could be a case of bad Feng Shui. Spiritualism and the balancing of energy works on all fronts, even fashion. Check out how Feng Shui works its charm in style.
The Main components
Tommy Hilfiger the hot shot American designer and Emanuel Ungaro are followers of Feng Shui for their fashion business. They may not design clothes based on this method but their offices and homes are built and decorated to match the directions of their personal Feng Shui guidelines. Donna Karen uses Feng Shui to set appropriate dates for her showings.
Osho devotees have worn saffron because it is the color of the holy sages.The style of the garment is very simple and fluid – a long slim robe.
Fashion all around the world is moving into a new Age mode, which requires that what we wear, has to give us the best vibrations and this can be achieved through the three main components –
Color

Silhouette

Fabrics.
The color white for churidars and kurtas is popular for summer heat and gives the wearer a tranquil peace, but the styles match the simplicity and purity of white. When they work with white most designers prefer to keep the styling uncluttered because the beauty and splendor of it has to be enhanced.
Creating silhouettes, which are long and flowing, and very celestial give the wearer a sense of calm and peace which in turn brings about a perfect balance.
Fabrics favored by people moving into the spiritual path are natural textures like cotton, linen and fibers like flax, banana, pineapple and jute, bringing the wearer closer to nature. Designers like Lina Tipnis and Nahid Merchant work with linen and pastel colors to create shapes, which are practical in Zen or geometric like forms.
The Numerology of colors

Colours correspond with numbers so depending on the date of birth etc and the dominant number, one is advised to wear the respective color. Different people follow different methods of calculating their number.
This is done by simply adding the numbers of your birthday. For example if you were born on the 29th of any given month, then all you have to do is add the two digits until your end result is a single digit. This is the most common way and is also believed to be the right way.

This is a method where by the date, month and year is added to get your number, which again must result as a single digit.

Still others follow the method of adding the numbers corresponding to the letters in their name.
Vibrations of the colors are most important for a person's energy balance. Colors are represented by numbers, which in turn guides the wearer to select the hues.
Color Number :
Black/blue 1
Yellow 2
Green 3
Purple 4
White 5
Golden 6
White/Grey 7
Turquoise 8
Red 9
Fashion Feng Shui For Colors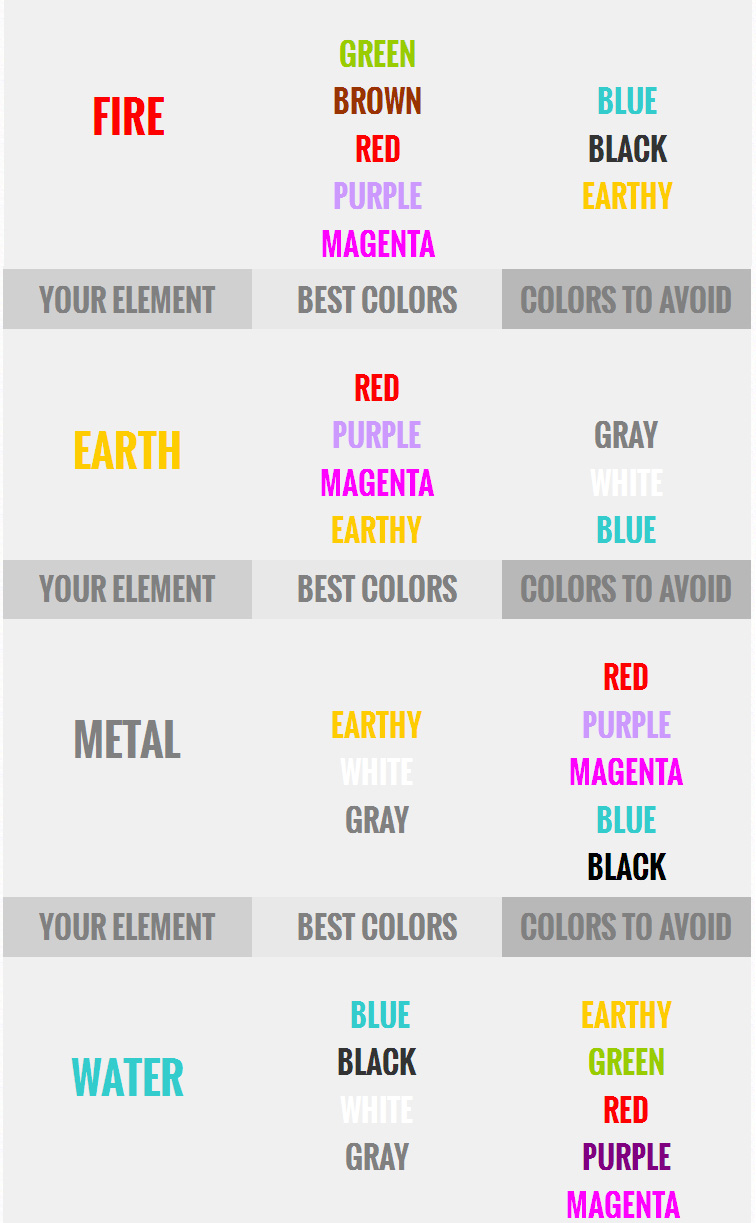 For a quick guideline to the colors, which will bring out the best in you, make a note of their vibrations for your benefit.
RED – this is a vibrant color that will give you a lot of love and joy and tremendous amount of energy and the will to survive. It promotes desire, stimulates courage and may give a dash of rage and anger and even cause some stress and chaos but at the same time when used cleverly it creates awareness idealism and evokes a childlike attitude.
ORANGE – here is a confident color with large doses of extrovert qualities, peace a certain amount of self assurance, uninhabited, gentleness, contentment in fact it is a good color to bet on. Everything is positive about it. So if you want to be cheerful, gay, alert, kind and have deep insights with flashes of ecstasy orange is the one for you.
YELLOW – it's the symbol of the sun so its full of optimism, joy, originality, adventure, high spirits versatility and if you want to be mentally agile and acquire knowledge yellow will work well for you. Besides that it is the color of serenity, warmth laughter that will drive you forward to greater achievements.
LEMON – if you want to be persistent accurate orderly and tidy go for lemon a fresh crisp lemon dress will work wonders for your self-confidence and moral.
GREEN – don't associate it with envy or jealousy as poets have said. It is full of peace, emotional calm, balance, relaxation, regeneration, concentration, rejuvenation, harmony, healing compassion and contentment. They say sit in a garden and meditate among trees because green has that power to give you self-confidence.
TURQUOISE – it's a vibrant color but its properties will give you tranquility refreshment and push you through with resourcefulness and help you to communicate better.
BLUE – whenever you want to spread peace then it's blue, which give tenderness clarity calm repose and a lot of inner warmth.
INDIGO – the popular color of most denim jeans gives this garment a tough hardy quality but indigo is also a color for inspiration. Remember the Genoese sailors were inspired to dye their trousers indigo – makes you more articulate gives you power, protection, purpose and the knowledge of that inner self.
PURPLE – it's considered a royal color meant for those with blue blood but it is also very creative so if you want to get brilliant flashes of ideas be in purple. It also has a soothing element that relieves pain just like indigo does.
VIOLET – it's a very spiritual color full of peace, contentment, tenderness, confidence with lots of clarity and the power to heal and enable you to communicate.
MAGENTA – it's a bright flashy color used lavishly by Indian designers for bridal wear because it is considered auspicious. It may also be because it is full of compassion, which gives mental and emotional balance and helps you to accept the small and mundane things of everyday life with a pinch of humor.
SCARLET – it's a brilliant color often associated with passion and that is just what it is – an aphrodisiac that will jog you from apathy and give you stimulation and strengthen you.
PINK – it's associated with baby girls but don't mistake it for a kiddy color only. It is a high spirited sensitive shade that gives you energy reflects unconditional love and can lift you up emotionally and is a wonderful muscle relaxant. So all you who have aches and pains go pink.