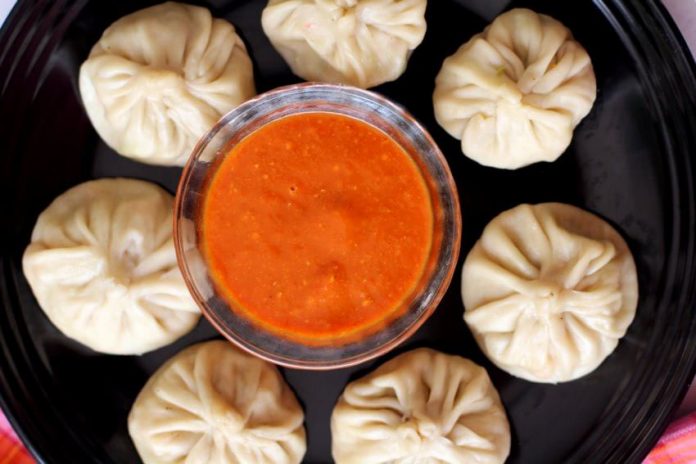 The hot spicy red chilli dipping sauce that is served with momos is the best part of this small bites. It is also called sepen.
Momos red chilli dipping sauce is incredibly flavorful and easy to make. There are many variations based on the region it is made like Nepali chutney, Tibetan momos sauce or an Indian Chinese style momos sauce. Over the years, I have tasted a variety of dipping sauces that are served with momos both in high-end restaurants as well as street hawkers. Each time, the momos chutney that I tasted differed in flavor and texture. Some of the dipping sauces were either very spicy or overly salty or too sour. The best one is spicy with a reddish hue and a texture that is neither too thin nor too thick. If we dunk or dip the momo in the dipping sauce, the smooth sauce sticks to the momo.
Here is the recipe shared by Satish Kumar, GM at JW Marriott, Jakarta.
Ingredients for Tibetan Hot Sauce
1 medium onion
2 medium tomatoes
2 tablespoons cilantro
chopped 2 stalks of green onion
2 stalks of celery
3 cloves garlic
½ teaspoon salt
1 cup dried red peppers (see the note below)
1 tablespoon vegetable oil for cooking
NOTE: You can adjust the spiciness of this recipe by using less red pepper and/or more of the other ingredients.
Preparation of the Hot Sauce
Roughly chop the celery, tomatoes, green onion, and cilantro.
Peel and roughly chop garlic.
Peel and cut onion in half lengthwise, then slice fairly thin.
Slice tomato in thinnish circles.
Heat oil in pan on high.
On high heat, cook garlic a few seconds, then add onion slices and stir fry about 1 minute.
Add celery and whole red peppers, stir fry another minute.
Add tomato slices, and stir fry for a minute or so.
Stir in cilantro, spring onion, and salt.
Cover and cook for about 3 minutes.
At this point, everything should be cooked down a bit. Put everything in a blender or food processor until you have a sauce. Stop at the thickness you like.