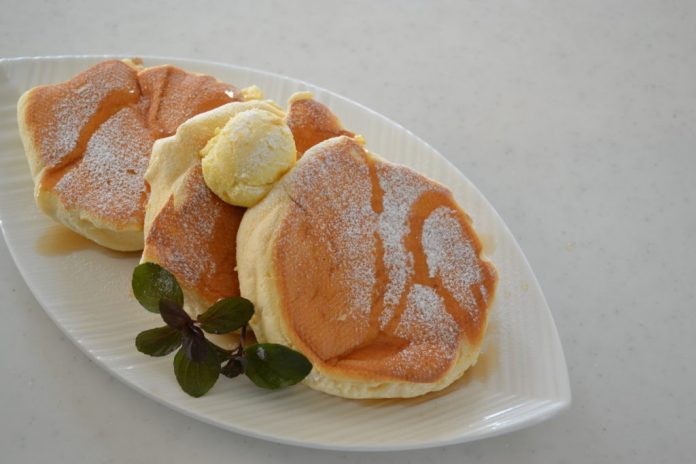 Other than jiggly Japanese cheesecakes which were a hit in the past, fluffy japanese pancakes are becoming the next big thing. Whether added with syrup, whipped cream or fresh fruits, these  pancakes are delicious in every way.
However if you don't fancy going to the restaurant itself, we recommend that you make it at the comfort of your own home.
Ingredients:
125 gr All Purpose Flour (3/4 cup + 1 tbsp)
1/4 tsp Baking Soda
1/2 tsp Baking Powder
Pinch of Salt
1 Egg Yolk + 3 Egg Whites
25 gr melted Butter ( 2 tbsp)
150 gr Buttermilk (1/2 cup + 4 tbsp)
30 gr Sugar ( 2 1/2 tbsp) to add to the egg whites)
Zest of 1/4 of a Lemon ( if you're not adding lemon zest add 1 tsp vanilla) DO NOT skip the flavorings.
1/4 tsp Cream of Tartar or 1/2 tsp Lemon Juice
How to make Japanese Pancakes:
Grab a large bowl and mix in buttermilk, 1 egg yolk, lemon zest and melted butter. Then add flour, baking soda, baking powder and salt to the mixture. Try not to mix everything too harshly, as it can harden the pancakes.
Take another bowl where you put in 3 egg yolks, lemon juice and cream of tartar. Use a mixer to whip the egg whites up, slowly adding sugar in increments.
After the egg whites have formed into stiff peaks, mix in 2-3 tablespoons of the previous batter that was set aside. Now, fold the rest of the egg whites batter in. This must be done gently in order not to deflate it.
Pre-heat your non-stick pan, then use ice cream scoops to scoop the batter onto the pan. Cook each side for 3 minutes while covering the pan. You can use a toothpick to determine whether it is cooked on the inside.
Your fluffy Japanese pancakes are done! Serve with fresh fruits, maple syrup, honey or anything that you like.
Do share your comments below…