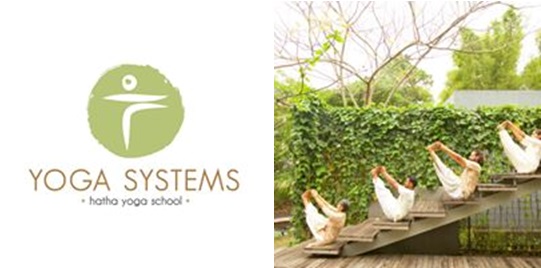 by Sreeram
Last weekend on 23 September, 2018, I had the privilege of witnessing the soft launch of Yoga Systems. It is bringing a Yoga studio to Indonesia as the the first Classical Hatha Yoga. The teachers hold certification by the Isha School of Hatha Yoga in India. It means to dedicate the process of teaching Classical Hatha Yoga in its full depth and dimension.
This purest form of Yoga is a holistic process towards health wellness and complete inner well-being. By calming your mind, reconnecting with yourself and tuning your system. This is not a fitness fad; the focus is not on burning calories or losing weight. It is an integrated system of tuning in body and mind, thus they work in perfect unison.
Yoga Sytems is headed by a trained Hatha Yoga teacher and practitioner, Maria D'Souza.
It was a perfect and idyllic setting for the launch. Held at Teduh Residence, amidst the lush greenery and calm surroundings, it seemed almost like the universe was gently encouraging all of us to tune in. It had just rained, the floor was still wet, there was a gentle breeze; fading sunlight glimmered in the water nearby with water lilies, perfect for a yogic sojourn.
People started gathering in, speaking in hushed tones, and soon the with participants filled the place with all wearing white or light clothes. They ushered us in warmly and asked to light a lamp. These were candle lights tied to a mango leaf with our names written on them, exquisite and thoughtful.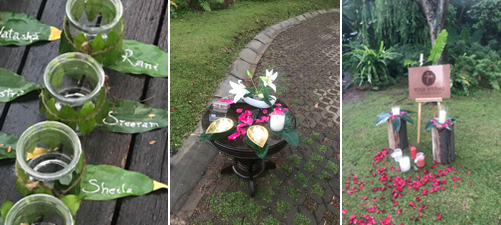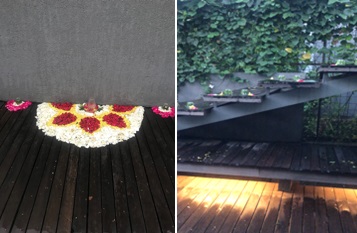 We lit the lamps, placed them around the Rangoli, offered our best wishes, helped ourselves to some non-alcoholic sangria, lemon infused coconut water and waited for the program to start.
It began with a beautiful rendition of Nirvana Shatakam, beseeching us to give up our ego, have no attachments, embodying the essence of Vairagya. The reverberating drums and the sholkas, sounding exactly like it is on Isha Chants. It was enchanting, goose-bump raising and invoking devotion and shraddha.
Notably, the musicians were Indonesians. Surely it must've have involved hours of practice and team work. The chant was followed by a song-prayer to Guru(Sadhguru), equally powerful and mellifluous.
Maria, then announced the launch, spoke emotionally about her journey into the world of Yoga. Her words were powerful, inspiring while also being expressive and heart-felt. There was a short recorded introductory presentation by Sadhguru on Yoga and its relevance in our everyday life.
What followed was a powerful demonstration of Surya Kriya by Maria and her batchmates. They did it with great agility, displayed enormous flexibility and strength. This was the grand finale. We later had some sumptuous prasadam (catered by Babooji), said our farewells and departed  – this experience fully inspired us to sign up for the organized workshops in the upcoming weekend.