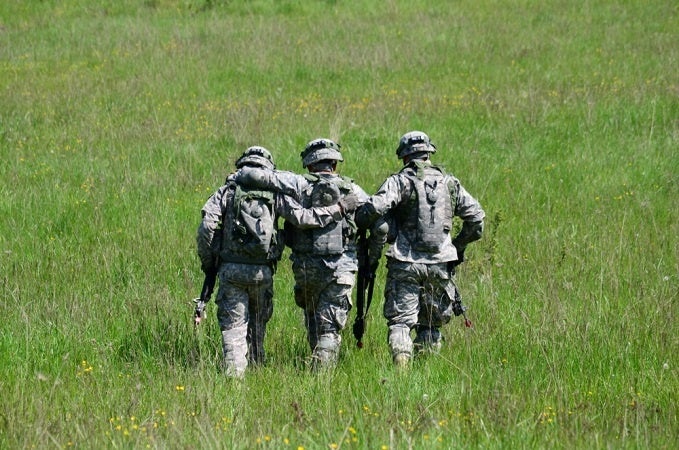 The COVID-19 pandemic has stretched us all thin. With the grief so raw and persistent, it's no wonder that our society is searching for healthy coping strategies.
Even though most of us are dealing with loneliness during the pandemic due to social distancing, human connection is still as important as ever. People who feel more connected to others have lower levels of anxiety and depression, have higher self-esteem, greater empathy for others, are more trusting and cooperative and, as a result, have better relationships with others. For that reason, it can be deduced that human emotional connection maybe something that can help those who are struggling this pandemic-a battle buddy, to be exact.
Who is a Battle Buddy?
A battle buddy is a system in which a partner is assigned to a soldier in the United States Army. The system works as such: when you are in deep distress during a combat, your battle buddy is there to help you both in and out of combat. It's designed to open the social gates of camaraderie in the most trying times of life and death.
This does not only apply to the military, as we can also have our own personal battle buddy that can help you navigate through life's ups and downs. A friend who is not only supportive of us, but can help us through the toughest moments of our lives. We may require more help than we realize and need more innovative tools in our wellness toolbox.
How do you identify your battle buddy?
The first indicator of finding a battle buddy is finding a person that you trust. That person is said to be someone who has your best interest at heart, whether a friend, colleague, family member or neighbour.
The second indicator is a person who is available emotionally. There are people who are your friends, yet they already have a plate full of problems and baggage that they may not be there for you when you need it the most.
Third, is someone whose advice you value deeply and respect. Their opinions may not mirror yours, but there is value to a person who doesn't always agree with you. A battle buddy will undoubtedly call you out when your coping mechanisms leer towards unhealthy and will be there to steer you away from it. If you reach for a cigarette, alcohol or food, your battle buddy can remind you to reach for the phone instead.
What are the benefits of a battle buddy?
Battle buddies not only help people in combat, but also help in their well-being. Which is why battle buddies were generally associated with a reduction in suicides in the military. This is not a surprising matter as people long to be heard, emotionally understood, and supported by another human being.
In our lives, however, a battle buddy can be helping us by keeping each other informed about the latest news and information regarding changes in COVID-19 guidelines and ways to stay safe and more. Even something as simple as communicating related problems such as travel, childcare, or getting vaccinated can promote cooperative problem-solving. Rather than feeling alone and lonely, you will have a feeling of comradeship and less feeling of isolation that you are experiencing all the difficulties of the pandemic alone.
As a result, confiding with others in these trying times can alleviate stress and decrease the stress hormone cortisol. Increased cortisol can cause mood swings, which can display as anxiety, depression or irritability. Those experiencing increase in cortisol may also experience weight gain and a suppressed immune system. When you are feeling overwhelmed, a battle buddy can boost morale in an otherwise very difficult time.
How do you become a battle buddy?
When a close friend or colleague is having a difficult time, whether it's because they lost a loved one during the pandemic or they are experiencing the results of COVID symptoms, check in on them on a weekly basis to make sure they are doing okay. Another option is to start a program at your business, nonprofit, a faith-based or community organization, and or even a neighborhood group. A battle buddy does not replace a therapist but offers emotional assistance.
Even when this pandemic is over, the emotional toll of it may last a lifetime. By having our battle buddies by our side, we can protect our emotional health and live happier and healthier lives.