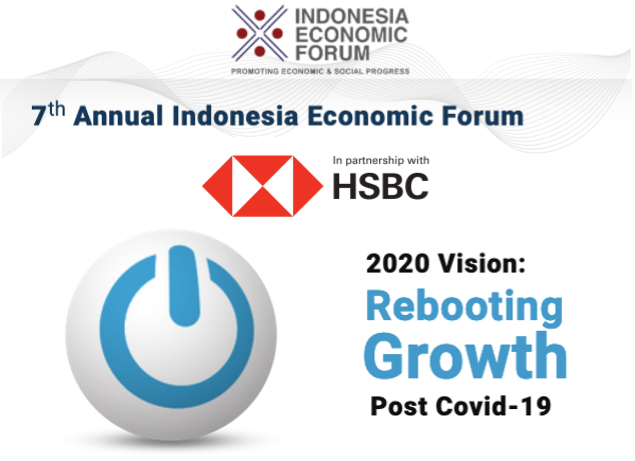 Register Now. Free Registration for the First 1,000 Delegate Participants
Click here for PROGRAM & REGISTRATION
www.indonesiaeconomicforum.com
We are pleased to invite you to participate in the 7th Indonesia Economic Forum as a conference delegate. This year our theme is 2020 Vision: Rebooting Growth Post Covid-19.
Over the past seven years, IEF has grown to become Indonesia's premier content platform, bringing together a high profile list of global experts, thought provoking, compelling and insightful speakers
to interact with our members and audience. Despite the Covid-19 pandemic, this year will be no different.
We have put together an exciting program on topics and subject matter that will help business leaders, CEOs, policy makers and society at large prepare for the post Covid-19 world.
The IEF annual conference will be held on 24-26 Nov 2020 from 10am to 5pm.
As with most large public gatherings today and in line with Indonesia's move towards a more technologically savvy society, the Forum will be held as a Live Streaming Video Conference on the Zoom platform. This gives you the comfort of joining the program from your workplace or home-office, and we have made the participation free of cost for the first 1,000 participants who register early. We also will provide you with a MULTI-ACCESS PASS LINK that allows you to attend any session of your choice across the three days.
More details on the program, sessions and speakers is available on our website  www.indonesiaeconomicforum.com  and we encourage you to register early as the digital delegate seats are limited.
We look forward to having you participate at the 2020 Indonesia Economic Forum and together chart Indonesia's future.
Best regards,
Shoeb Kagda & 
Sachin V Gopalan
Founders
Click here for PROGRAM & REGISTRATION
www.indonesiaeconomicforum.com
Our sponsors are: