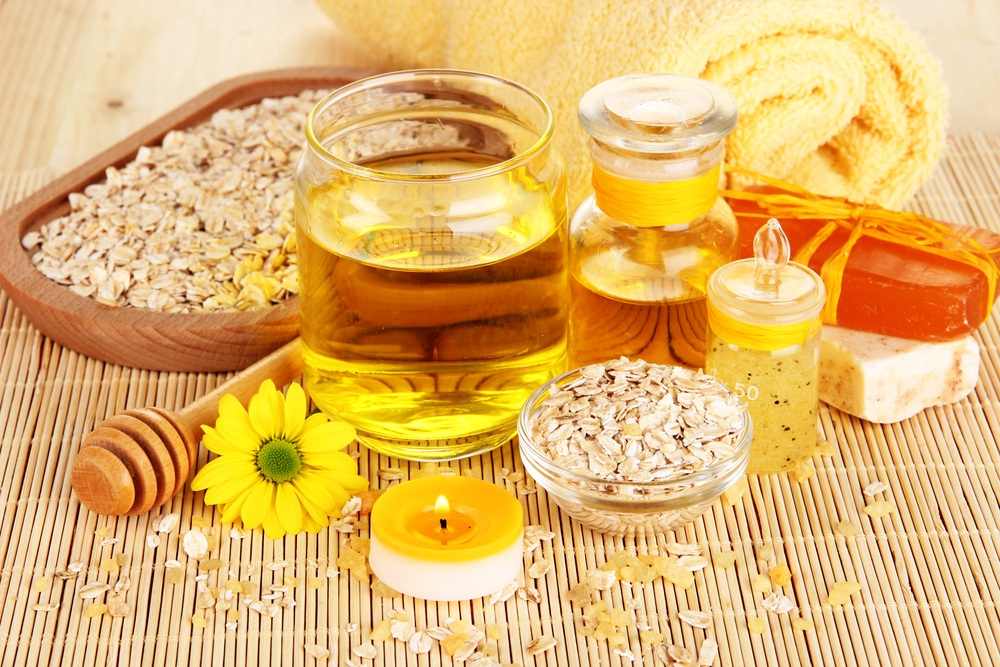 Although there are so many beauty products that promise you a glowing, beautiful, healthy-looking skin, sometimes these products are either too expensive or contain ingredients we are allergic to. If this situation rings any bell to you, maybe it's time to switch to natural remedies. Yes, these natural remedies won't promise you a quick change to your skin, but it's still worth to try. And the most important thing is these remedies are safe for our skin.
There are so many beauty hacks using natural ingredients such as honey, lemon, turmeric, and aloe vera. But in this article we are going to focus on one ingredient (which is also a superfood): oatmeal.
Oatmeal contains antioxidants, avenanthramides, as well as anti-inflammatory compounds which help soothe dry and irritated skin, including acne-prone skin. These characteristic make oatmeal ideal for facial masks. Oatmeal can be mixed with other ingredients to make effective oatmeal facial masks.
Below are oatmeal mask recipes that you can try at home:
Honey and oatmeal facial mask
This mask will soothe irritation caused by acne and free radicals, leaving your skin smooth and fresh.
You will need:
4 tablespoon of ground oats
1 tablespoon of honey
1 egg yolk
Steps:
Pour honey over the ground oat in a small bowl. Mix the honey and oats thoroughly until they form a uniform mixture. Honey acts as humectants to help moisturize your skin, and it also has antibacterial properties to help treat acne.
Mix in egg yolk, mix with the mask. Egg yolks are rich in vitamin D, which is an antioxidant that delays the aging process.
Apply the mixture to your face and allow it to set for 15 minutes, then rinse it off thoroughly with warm water.
If you have oily skin, include a dash of lemon juice to help clean away excess oil.
Milk, banana and oatmeal mask
This facial mask is particularly important for nourishing the skin.
You will need:
½ ripe banana
1 tablespoon ground oatmeal
1 tablespoon milk
Instruction:
Place the banana in a mixing bowl and mash it into a pulp. Banana contains potassium, which is great for healing blemishes on the skin.
Add ground oatmeal and milk into the bowl. Milk contains lactic acid that helps perk up aging skin. It also smoothens, softens, evens out discolorations and lightens dark spots on the skin.
If you have oily skin, go for skim milk and if you have dry skin, use creamy milk instead.
Oats, honey, and almond mask
Almond acts as exfoliant that will slough off dead skin cells. If you really want a healing mask, you could opt for almond oil to reap the benefits of vitamin E and antioxidants that heal and repair skin.
You will need:
1 tablespoon ground oatmeal
1 tablespoon finely chopped or ground almonds (depending on how gentle or intense you want your exfoliant to be)
1 teaspoon of honey
Instruction:
Pour ground oatmeal to a mixing bowl. Add ground almonds, mix thoroughly.
Stir in a teaspoon of honey, mix thoroughly. Add more water if it gets too thick.
Apply to your face. Leave on for 10 minutes and rinse with cool water to close up pores.
Olive oil, egg white and oatmeal mask
This is an excellent facial mask for skin tightening. Egg white is rich in vitamin and protein, and helps giving your face a lift and tightening pores.
You will need:
1 tablespoon coarsely ground oatmeal
1 egg white
1 tablespoon olive oil
Instructions:
Beat the egg in a bowl until it forms froth.
Pour in the olive oil and oatmeal, mix thoroughly.
Apply the mixture onto your face, and let sit for about 15 minutes.
Getting this mask off can be difficult. To loosen the mask, wet your face with water, and use your fingers to gently rub your face in a circular motion. Rinse it off with warm water
Tomato and oatmeal mask
This mask is great for oily to normal skin. Tomato is great oil absorbent and helps to reduce tan. Oatmeal helps to absorb excess oil on the skin to keep it oil free.
You will need:
2 tablespoons ground oatmeal
1 small tomato
Instructions:
Make a tomato puree using blender to form a smooth paste. Set aside.
Pour ground oatmeal in a bowl. Mix in tomato puree, mix thoroughly until there are no lumps.
Apply the mask on your face, and leave on for 10-15 minutes. Wash with warm water.