Yogyakarta really deserves the label 'Never Ending Asia'. Blessed with spectacular natural scenery and exciting things that tourists can do in this City of Gudeg –  there are many other interesting things that you can do in Yogyakarta, besides visiting Borobudur, Prambanan or strolling around Malioboro, Here are six fun activities that can spark your visit at this city:
Walking between twin Banyan trees

Well, maybe this still counts as 'ordinary' thing you can do in Yogyakarta, but you really must try this! These twin banyan trees are located in Alun-Alun Selatan Yogyakarta. According to a myth – if you can walk straight between the trees with your eyes closed, you will have good luck and prosperity in the future. If you fail, it is said that you have impure heart. If you peep from blindfold, it is believed that you'll be haunted by supernatural beings. It may seem easy since you only need to walk for around 10-20 meters. But in fact, many (if not almost all) tourists can't walk straight between the trees! To experience for your own self , you only need to pay Rp 3.000 to rent the blindfolds. You can do it during the daylight or night, but many people prefer to do it at night as it feels more 'thrilling'.Address: Jalan Alun Alun Kidul, Yogyakarta (behind Keraton Yogyakarta)
Rock climbing at Siung Beach

Have you ever tried rock climbing with green mountain views? At Siung beach, you can climb the rock and enjoy the ocean views! Located about 70km from city center, Siung Beach has pearly white sands, turquoise sea, and cool air. And of course, there are high rocks (up to 15 meters) that are waiting for you. Siung Beach has 45 climbing tracks with various difficulty levels. "Kuda Laut" track is the most favorite track for rock climbing here. After the adrenaline rush, don't forget to enjoy the beautiful Siung beach.
Address: Purwodadi village, Tepus sub-district, Wonosari, Gunung Kidul, Yogyakarta
Sandboarding at Parangkusumo sandbank

No need to go to Africa if you want to feel the atmosphere of desert—Yogyakarta has sandbank that resembles African deserts! Parangkusumo Sandbank is located along Opak river until Parangtritis beach, Yogyakarta. The sands come from Mount Merapi's volcanic ashes that brought along the stream of Opak River and Progo River to the Southern Sea. Parangkusumo Sandbank does not only offer beautiful scenery but you also can sandboarding there. Simply stand on a board and 'surf' through the sands. It may seem easy but you need to keep your balance while standing and sliding on the board. Try it once and you will definitely want to do it more!
Riding ATV at Parangtritis

At Parangtritis Beach, Yogyakarta, you can rent and ride ATV (All-Terrain Vehicle) for Rp 30.000 per 15 minutes. You can ride this vehicle while enjoying the beach view and listening to the sound of sea waves hitting the foreshore. Riding ATV has been one of the most favorite ways by tourists to spend their time at Parangtritis. Try this early in the morning to explore the beach with ATV, while the beach is still empty from visitors.
Wood Batik painting at Krebet Village
Would like to learn Batik? While in Yogyakarta, visit Krebet village at Bantul, 12km southwest of Yogyakarta. Here you will not learn to do Batik on fabric, but on on wood! In Krebet souvenirs and gift shops have many beautiful Batik on wood bracelets, mask, and porcelain jugs. You can not merely buy, you can also try your hand at Batik on various wooden medium at this village. If you want to stay longer at the village to master the art of Batik, this village also offers home stay packages that range from Rp50.000 – Rp100.000 per night. Interesting, isn't it?
Drinking "Kopi Joss"
While in Yogyakarta, eating Gudeg is not enough you just have to try a drink with unique flavor named Kopi Joss. At the northern part of Malioboro, you can find "Angkringan Lik Man" where you can try the famous Kopi Joss. Actually Kopi Joss is just an ordinary drink made from sugar, powdered coffee brewed in hot water. What makes it different from other coffee is a hot charcoal dipped into the coffee. When the charcoal is dipped, you can hear a 'jossss' sound—that is why it is named Kopi Joss. Not only unique, Kopi Joss is believed to cure flatulence and colic. And it's very cheap, only Rp2.000 for one cup of Kopi Joss!
Address: Jalan Wongsodirjan, Yogyakarta (near Tugu Station Yogyakarta)
Desa Wisata Gamplong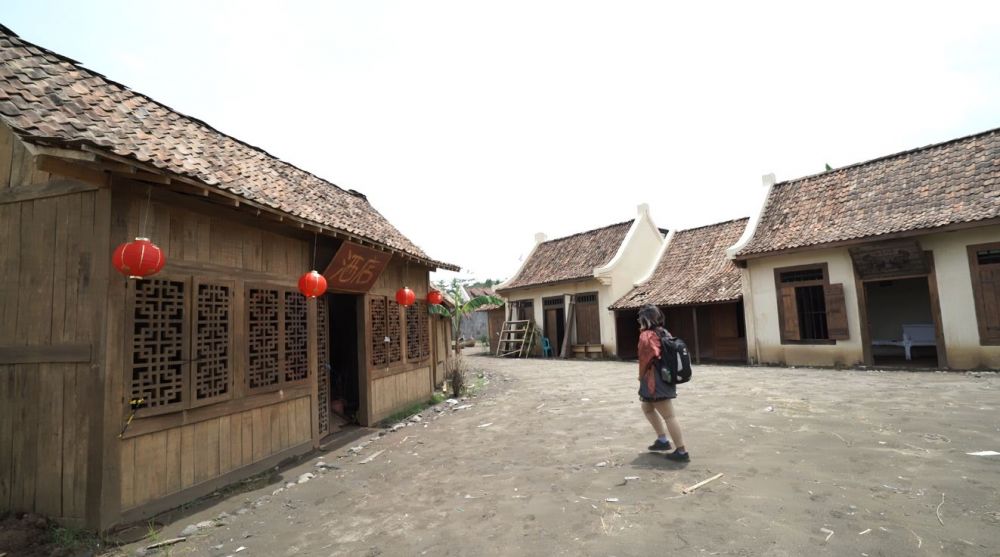 Finally, you can head over to Desa Wisata Gamplong in order to take pictures of 'little hollywood' in Indonesia. This location was especially made for the film 'Sultan Agung the Untold Love Story'. Hanung Bramantyo, the producer has especially dedicated the place to film lovers. The location is seen as a unique spot where people can take pictures and even film movies. Other than cinematic effect, Yogyakarta's 'little hollywood' is favored for its representation of what Indonesia would've looked like in the past.
Yogyakarta is a favored Indonesian tourist attraction, not only for domestic but also foreign tourists. It offers many things for the tourist that they may not find in other cities. Whatever you do in this city, Yogyakarta is simply amazing and you will enjoy your time there. Just like KLA Project said in their song "Yogyakarta", nikmati bersama suasana Jogja…