The everyday congested traffic in Jakarta makes an Ojek (motorcycle taxi) a great transportation option. It can go through narrow alleys and escape the traffic jam faster. This is why two wheeler ride sharing apps are so popular in Jakarta and other regions in the country.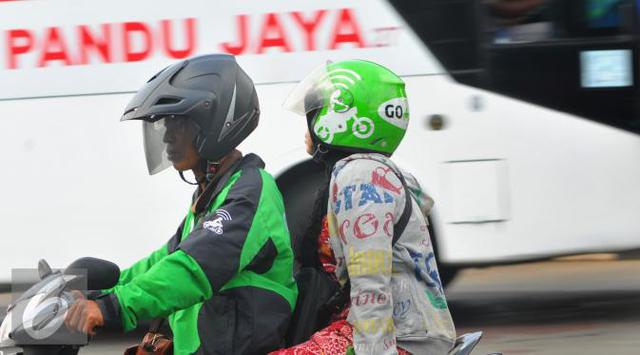 There are several online ride sharing apps available in the city, such as Go-Jek, Grab, Uber, and Blu-Jek. Usually people will determine certain factors before choosing the apps they're going to use, such as price, availability, and of course, safety.
It is not uncommon to hear some bad stories and experiences of using ride sharing services. The most common experiences are bad drivers who drive carelessly, and even make an attempt to drive the customer into different destination.
However, it does not mean that ride sharing is unsafe. You can ride safely if you follow these tips:
Choose the ride sharing app wisely
Everybody has their own preference when it comes to choosing the best app or provider. For this case, you can ask your friends or colleagues who use the service frequently. So far, among the three major online transportation providers (Go-Jek, Grab, and Uber), Go-Jek is probably the most favorite provider. Not only it has many features, the drivers are also known as friendly and humble.
Choose the safe pick up and drop off location
Although more and more conventional Ojek drivers have chosen to be Ojek Online drivers, conventional Ojek (or Ojek Pangkalan) still exist. Sometimes Ojek Online drivers don't want to pick up or drop off their customers near conventional Ojek's station. So, if you think that the situation can endanger both the driver and you, ask the driver to pick you up or drop off at a safer place. You may need to walk for a few meters to or from your location, but it'll be much safer.
Regardless of the situation, always choose a pick up location that is easy to find and safe for both of you and your driver.
Input the location description correctly (especially the pick-up location)
In case your location is not on the map, make sure you describe the location fully. For example, if the pickup location is at Lotte Shopping Avenue, you can include further details such as "at Satrio lobby" or "near the blue statue". However, because not all Ojek Online drivers speak and understand English, it will be much better if you type the description in Bahasa.
Re-check your driver identity
When you order a service from online transportation providers, on the app you'll get the details about the driver/courier. The detail usually consists of the name, phone number, and the vehicle's license plate number. When the driver arrives, make sure he/she rides the same vehicle stated on the app. A good driver will ask your name and destination upon arriving at the pickup location. You can also call the driver and tell your exact position or the clothes you're wearing to ensure that the driver who's arriving is the one stated on the app.
If possible, remember the route to your destination
When you choose a type of online transportation options (motorcycle or car), it is always wise if you know the route to your destination. Not all drivers know the route, or know the fastest route to your destination. You have a right to ask your driver to use your preferable route.
Place your bag/belonging properly
If you're riding a two wheeler, make sure that you place your bag or other belonging in the space between you and the driver's bag to prevent pickpocket (yes, pickpocketing can happen on the road). Carrying your bag on your shoulders or back is dangerous as robbers can easily grab your bag.
Do not use cell phone while riding
Sometimes you may have to reply that WhatsApp message or pick up the phone while you're riding a two wheeler. However, you need to be aware that you're still on the road, with other motorcycle and car on your left and right side. Again, to prevent pickpockets, it's better to put your phone in your bag or other safe place.
When in doubt, choose other transportation options
Some drivers still accept orders late at night. This is actually a great idea for those who often coming back from the office late or have an emergency situation. However, if you doubt the safety of riding an Ojek on the midnight, you can always opt for other options such as taxi. Choose a well-reputed taxi company like Blue Bird or Express to ensure the safety of your ride.