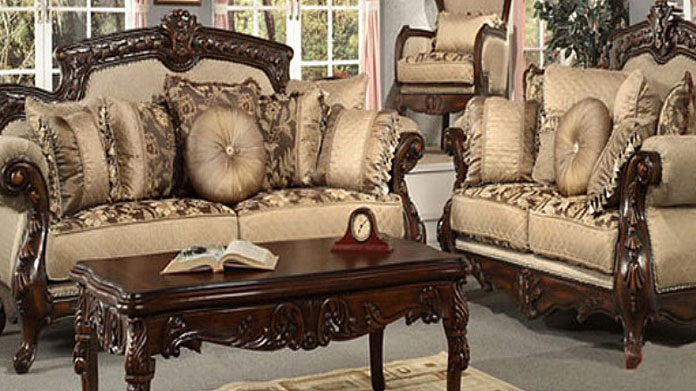 Jepara is a town in the province of Central Java, Indonesia. Furniture from Jepara has been known for its quality from Indonesia to foreign countries. Made from teak wood, its high quality material, one-of-a-kind design, artistry and modern innovations differentiates it from other furniture.
Here are the 9 reasons why you should buy furniture from Jepara:
1. Jepara Furniture Is Suitable for All Decorating Styles
Is your living room a minimalist style? Classic? Neo-Classic? Don't worry, Jepara furniture fits all decorating styles. Even if your living room is in a modern style, Jepara furniture is still elegant as it adds a traditional touch.
All you need to do is adjust the color of the furniture and the pattern of the fabric on the chairs with other elements in the room. Also pay attention to the size of the furniture, making sure that it does not make the room narrower by blocking walking space.
If you want to choose furniture with intricate carvings, choose only one piece of furniture. Too much carving will make the room decoration look too crowded and boring.
2. Jepara Furniture Is Made With Superior Material
In general, Jepara furniture uses good quality teak wood, so its durability makes this furniture superior to other furniture, as it can last up to 20 years.
In addition, teak wood of Jepara furniture is known as the best teak wood in Indonesia. The wood texture is smoother with sharp fibers, and the color is more uniform.
The furniture is also comfortable to use because it is sturdy and proportional. Although the price of Jepara furniture is relatively higher, you get what you pay for.
3. Handmade Carvings on Typical Jepara Furniture
As previously mentioned, Jepara furniture usually uses teak wood as the basic material. Not many carving craftsmen are able to make delicate and complex carvings like Jepara furniture.
In addition, the carvings on Jepara furniture each have their own characteristic. This happens because the furniture is generally hand made or done directly by craftsmen.
As a result, the furniture is high quality and high in artistry. Jepara furniture carvings also look more graceful and alive. This is what makes this furniture attractive and sought after in the international market.
4. Jepara Furniture Is More Durable
Teak wood of Jepara furniture has better quality than teak wood produced by other countries. Teak wood from Indonesia is known to be more sturdy and durable than teak from other countries, such as India, Myanmar, Thailand, or the Philippines. Because its durability can reach decades, many collectors are interested in collecting Jepara furniture. In fact, the older the Jepara furniture, the higher its value.
The materials used in furniture can affect the quality and price. For example, those made of wood usually have high resistance because they are made of solid wood.
5. Water Resistant and Impervious Towards Termite Attacks
The biggest challenge of wooden furniture is that it gets damaged by water, gets attached by insects such as termites and moths. However, teak wood of Jepara furniture contains natural oils that makes it more resistant to water and termite attacks. You don't have to be confused about how to get rid of termites anymore.
This makes Jepara furniture also suitable to be placed outside the house such as a terrace or garden. The quality of the furniture will stay the same even with the changing or strong weather.
6. Looks Elegant and Classy
The entire process of making Jepara furniture is carried out to a high standard. Starting from the selection of materials, cutting, production, until the final result is done well and carefully. No wonder it is so elegant compared to other furniture products.
The natural wood color of Jepara furniture is very beautiful when combined with other interior styles and furniture. The advantages of neutral wood colors are able to balance the atmosphere of the room.
Jepara furniture has a smooth and glossy finish, making it look very classy.
7. Japanese Furniture Has Several Grades
For those of you who want to have products from Jepara but have limited funds, don't worry! Jepara furniture has three grades that you can adjust to your finances and needs.
The lowest grade is grade C. Made from solid wood, grade C furniture usually still leaves a white line on the wood used so that the color of the furniture looks uneven. There are a total of seven types of solid wood, such as teak, mahogany, ironwood, sungkai, pine (Dutch teak), beech, and bamboo.
The advantage of grade C is that it is affordable but still looks luxurious, its drawbacks can only be seen by people who are experts in wood. If you have more budget, choose grade B furniture which is slightly more expensive but more durable. The final result is smoother than grade C.
Meanwhile, grade A is the best quality furniture. It is made with more care and uses polyurethane as a finish. Grade A is resistant to weather challenges even acid rain.
8. Jepara Furniture Has Many Products
Jepara furniture products are not only limited to chairs and cabinets, but you can also find a variety of products such as beds, tables, lounge chair, or child's wardrobe, etc.
9. Jepara Furniture Is Easy To Find
Quality products are usually rare to find. But for those of you who want to have a variety of furniture products, don't be discouraged, you don't need to go to Jepara, you can find Jepara furniture in your own city.
There are many furniture stores that provide Jepara furniture. If you can't buy directly, you can even find it online, really. In addition, many physical Jepara furniture stores are now opening online stores.