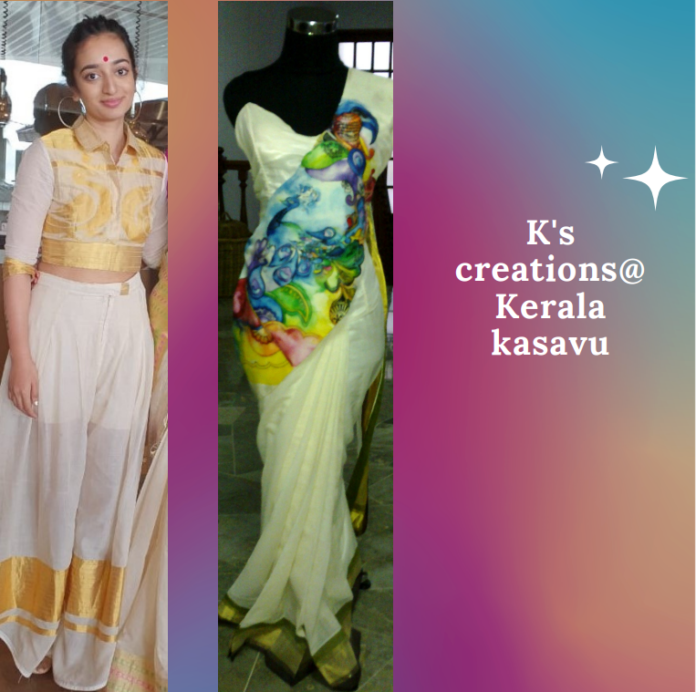 My trips to Kerala have left an impression on my mind, of palm trees, and lush greenery,
lagoons, rice fields, 'vanji and kattuvallam' (boats and canoes); of the ONAM festival celebrated by all and the stark simplicity of the attire of the people which is so classy and elegant and in mostly traditional cream and white.
This small coastal state is where you will find the magical Kerala Kasavu, a sheer cream
pure cotton fabric with a gold zari/brocade border, carefully hand woven and hand crafted in handlooms by traditional weavers; symbolic to Kerala's rich tradition and culture.
This object of art is a timeless piece where the beauty lies in its simplicity. Handcrafted
by spraying powdered gold over intertwined silver threads, its rich and contrasting golden
chromacity adds aesthetic grace to this cream and gold piece. The hand woven 'Kasavu' has a 100 thread count denoting its fineness and sheer softness. It can be hand washed
innumerable times and each wash sees the fabric become more wearable and breathable. The handloom gold zari or brocade border does not tarnish easily and can be polished when it turns dull.
Having travelled to the handloom clusters in Balaramapuram, Kerala, learning a bit of the art of weaving and doing some research work has made me realize that this beautiful handloom art form is seeing a slow demise and the weaver-craftsmen are struggling to keep alive this once flourishing industry due to the invasion of the power loom products
especially more so during this pandemic. Reducing toxins and carcinogens in one's wardrobe and environs and meaningfully supporting natural fibres should be the way now and I hope the beautiful legacy of the conventional Kerala Kasavu is eternal…
.
by Kheya Joseph