Beauty Salons and Hairdressers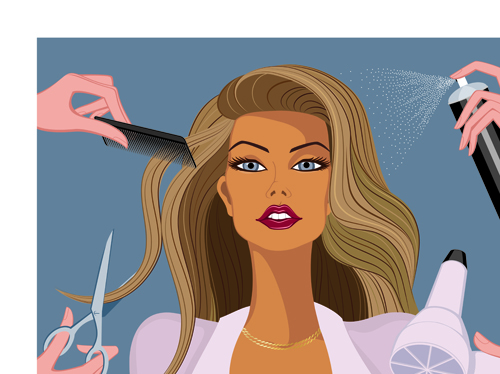 One of the most important things for a woman when coming to live in a new city is to find a suitable beauty salon or hairdresser. Jakarta has lots of nice salons to choose from, most of which provide services for men as well as women, but you need to find a salon where English is spoken well enough and where the staff and stylists are accustomed to dealing with all types of hair.
---
Salons here offer all the regular items such as hair cutting, hair coloring, facials, various skin treatments, waxing, manicures and pedicures, plus some specifically Indonesian treats such as the cream bath. This is a scalp treatment using a creamy mixture with additives of your choice, such as aloe Vera or ginseng, and massage of the neck, shoulders and arms.
Some of the current favorite salons serving the expatriate community are listed below together with comments from satisfied clients.
Alfons
Jl. Panglima Polim IX No. 1
Kebayoran Baru
Phone: 722 0416
Pondok Indah Mall 2
2nd Floor Unit 242
Pondok Indah
Phone: 7592 0715
"Alfons at Pondok Indah is good for cutting and Roberto at Panglima Polim is good for coloring. There is another branch at Kartika Chandra Hotel in Central Jakarta."
"I get my hair cut by Alfons at his Pondok Indah salon. He is the first hairdresser in Asia that I have found who cuts my hair as well as my hairdresser back home, and I am very picky!!! At first I had trouble communicating to make appointments, but when I brought it to his attention he immediately fixed the problem. He is very accommodating and has his staff set up to work like a salon in the States; i.e.: calling to confirm appointments the day before, ordering professional appliances for me like hairdryers, flat irons, etc. His prices are very reasonable and the service is good. I believe that he would like to have more western clients, and I feel that he is committed to accommodate our expectations."
"I go to Alfons in Jl Panglima Polim. I love the salon because they do exactly as you ask and they are quick. The main stylist is Roberto, an Italian guy who has customer service as his middle name. I also love that they have access to great products. They do eyelash extensions and hair extensions as well. The price is higher than some places. It cost me around Rp 600,000 for my color (highlight) treatment."
"I love Roberto at Salon Alfons… never mind that he is so cute to look at, he does fantastic color and cut. He won't listen to deranged hormonal women when they want to do something to their hair that he knows will not suit them… and then he would have to cope with the raging hormonal woman drama thereafter!! So he is totally in control of my hair… I do not have an opinion… surprisingly enough, I am happy with that :-)"
"Roberto is ok with colors and gives a good haircut."
"Best hair wash I have ever had!"
"Amazing hair wash and excellent manicure. Very friendly staff!"
---
Hair Klub
Intercontinental Mid Plaza I, Lower Lobby
Jl. Jend. Sudirman Kav.10 – 11
Karet
Phone: 570 0545
"Lillian is renowned for her skills in cutting and coloring and is especially good with fine hair. She speaks English and German."
"Lillian knows foreign hair well and is good with colors"
"They do great color on blonde hair – really nice highlights…on my brown hair it wasn't very good…my hair looked purple (direct quote from my stylist in the US!!)"
"Good for fine hair. My hair looks great when I come out!"
"They actually did what I asked them to!"
"Ida has been cutting and coloring my hair for 14 years. Ida, Lillian and Johnny, the partners in the business, are all excellent operators. I started going to Hair Klub all those years ago because I had heard they were very experienced at cutting and coloring fine western hair. Lillian trained in Germany and both she and Ida attend workshops and seminars overseas. The service is always thoroughly professional, friendly and efficient. There are several large and comfy upholstered salon chairs which are great if you are having a cream bath or a lengthy treatment… very snoozy! Prices, although not cheap, are reasonable for the quality of the operators. Cut, color and full highlights including blow wave is approx Rp 800,000 – 900,000."
"Lillian, an Indonesian lady with very good English, is my stylist. She knows a good deal about color and will give you what you ask. I found they have limited products for color and limited knowledge so you can't really be experimental and try something new. They seem to take a long time as well. The best part though is the price. You can get out of there under RP 400,000 and that will include a hair health treatment & mani/pedi!"
Irwan Team Salon
Pondok Indah Mall, 1st Floor, No. 123
Jl. Metro Pondok Indah
Pondok Indah
Phone: 750 6747
"Good for a quick wash and blow dry."
"It's easy to get an appointment and the salon is open later in the day. Good men's hair cuts."
"Irwan's salon is very good for hair cuts and coloring, for men as well as women. Irwan trained in Germany and speaks both German and English."
"I have been to Irwan a lot – seeing both Irwan and Andy. I like them both – Irwan really does what I ask – Andy is cheaper and takes off more than I initially want but he also listens to what I want done. It reminds me more of one of those places in the US that is a chain – which Irwan Team is, but both Irwan and Andy have made me feel like an individual and have given me excellent haircuts. Irwan and Andy are usually available pretty much at the times I want to go, on the days I am "ready" or "beyond ready" for a haircut."
Jamu
Jl. Cipete VIII No. 94B
Cipete
Phone: 765 9691
Website: www.jamutraditionalspa.com
"Nice and relaxing massage. It's like being in Bali."
"Love their facials."
"Small and gets busy at peak times. Good service. Open on Sundays."
"When I want to relax I go to Jamu. The ladies are quietly friendly and often asking me if it is too cold, too hot and always wanting to make me feel comfortable. So much so that I have felt my head bobbing while getting a pedicure. I have had cream baths, leg massages, manicures and pedicures but never a massage. I took my brother in law for a massage over the Christmas holiday and he said it was fantastic! So fantastic that he scheduled two more for his total of a 4 day visit with us in Jakarta. We went to Bali and he said nothing compared to his experience at Jamu. He is a tri-athlete and receives many massages and believes that value for money, Jamu is superb. Even if it cost more, he would have paid for such a relaxing but deep kneading massage. I find Jamu to be clean and the girls are always careful to clean their utensils and always ask if you want to use the shaver or the pumice on your feet."
"I really like the size as it's not usually crowded. They do a good job on manicures/pedicures, cream bath, massage. I have been going there 6 years. In the last 6 months they have upped their prices so much – they are more expensive than most spas in the same area."
---
Johan's (JE) Hairshop
Jl. Puri Mutiara No. 1
Cilandak
Phone: 9856 8709
"Johan has been my hairdresser for years, and he is a great guy and gives the FASTEST haircut in Jakarta! He is in a new location. Check it out!"
"The conversation with Johan is always entertaining! Good haircuts and cream baths. Johan trained in London with Vidal Sassoon. It's a unisex salon with full services and reasonable prices."
"Great place for a good haircut. Johan does all haircuts. He is very fast so when I only have a half hour to spare I can fit in a cut. If you have a little longer and sit and visit, Johan will fill you in on all the latest Jakarta gossip. If you don't want to spread news, don't tell Johan! His girls give good cream baths, though I found the manicure/pedicure better at Jamu. Johan is also very reasonably priced."
KMD International Hair Salon
Hotel Kristal
Jl. Terogong Raya
Cilandak Barat
Phone: 7581 8027
"Stylists Anthony and Sri both do good haircuts and all the staff is skilled and friendly."
"Anthony does good color and cuts. Ahmad is great for a quick wash/dry. You have to have an appointment."
"Sri is really good at color and cutting. It's a good salon for hairdressing and manicure. Usually they will fit you in even if you don't have an appointment."
"Anthony understands my hair. He has a lot of expatriate clients."
"Ahmad is excellent! The salon serves men and women and is good value."
"Ahmad is absolutely lovely! He can cut western hair!"
"My husband gets his hair cut there – they do a great job."
"I really like the way this salon operates in that they have staff that not only speak English fluently, but understand when I ask for the kind of services I might get in a salon in the States. While I did not find anyone there who cut my hair consistently the way I liked, they have done a phenomenal job on my friend's hair. She gets hair cuts and highlights that are as good as we get in the States, and Sri styles her hair even better. Again, the price is a little higher than Alfons, but well worth it."
Mil & Mat
3rd Floor
Jl. Kemang Raya No. 33
Kemang
Phone: 719 8030, 719 1188
"Mil & Mat is always reliable and very popular with expatriates. Facials are very good as well as manicures, pedicures, cream baths and massages. Reasonable prices for all the family."
"I get my hair cut and colored just the way I like it!"
"I like that they have separate spa for men and ladies. I don't like that it usually full of expat ladies who sit and talk the whole treatment through!!! I don't go there because of that! I like to relax and enjoy my treatments, not have a social hour. Good place if you wanted to go with a group of women for fun!"
---
Nikki's Salon
Jl. Kemang Raya No. 47A
Kemang
Phone: 719 2917
"My favorite is Nikki's Salon in Kemang. I love the range of services they offer including a cream bath, pedicure, even a hair cut. Mostly I love the professional attitude but also the friendly welcome that greets you every time you walk in the door."
"Nikki is very helpful in talking through what styles and colors she thinks will suit you. She cuts and colors very well and I have had lots of comments on my hair since I have been going to her. She is a Scottish girl and has a very professional set up in her own salon. The creme baths are very good (though a little more expensive than local salons due to her products and (I guess) clientele. You can also have (very good) reflexology – I usually have it whilst waiting for my color to develop and there is a girl who does facials. They can also do mani and pedi. She also has other stylists available. My husband also gets his hair cut there."
"Love Nikki's Salon in Kemang and the Scottish young gal Nikki who owns it. Love everything about it. Her care and time to consult and work with my color, her employees, the ability to get brows and eyelashes tinted there. My husband goes as well."
Ranggon Feliz
Jl. Gaharu I No. 10
Cipete
Phone: 769 4338
"Excellent! I have never walked out with a bad haircut."
"Felicia trained in Beverly Hills. She is very honest. You can usually get in at short notice."
"I like the hair wash and massage. Felicia is the only one who can do my hair!"
"This is my favorite for cream bath, manicure/pedicure, etc. I think Felicia does nice cuts and color. My husband goes here for his hair cuts."
"Wonderful facials, large size massage beds. Good for coloring blonde hair and great haircuts. They offer cream baths, manicures, pedicures and spa treatments and are open on Sundays."
"I wanted to give Ranggon Feliz a try after a long bout without a haircut. She did a good job but it never grows out well. She is a lovely lady and very vivacious. My friend has also gotten her hair cut there and always comes out happy. It is clean and comfortable."
"Good spa. I don't like the openness as much for manicure/pedicure or cream baths. I love the rooms for waxing and massage. Felicia does my hair. It's usually ok – sometimes not as great as I would like, but she is a friend now so I just keep going. Color good most of the time. Overall I would rate this one pretty high."
"Felicia understands hair and I never walk out crying!"
Venuz Hair & Beauty Salon
Jl. Kemang Raya No. 23
Kemang
Phone: 719 8209
"Essy is Indonesian but has been doing expat hair for many years. She speaks good English and understands what I want. I have had no problems there at all."
"Essy is pleasant and speaks English. She does the right colors, and cuts my hair to my satisfaction."
"Essy is very good and speaks good English. She had the confidence (which gave me confidence), to change the base color of my hair from blonde with dark low lights, to a dark base with highlights which most people say looks better and more natural."
A big thank you to all of the ladies who participated in our informal survey!
Provided by: Colliers International
Also Read: 5 Hair Salon for Kids in Jakarta