Makeup products aren't only limited to cosmetics and skincare. There is one kind of makeup product that comes along with cosmetics: makeup applicators. These applicators have their own shapes and functions, and they will help to even out the cosmetics on your face. Usually makeup brands also sell a range of makeup brushes and applicators to compliment their makeup.
If you are a newbie in the beauty world, it is important to know the types of makeup applicators. There are brushes, sponges, oval brushes, and they all come with different materials. It's a bit overwhelming, but knowing the types and functions of the brushes are just as important as knowing the cosmetics itself.
Here we present you with the picture and explanations about makeup applicators and their functions to guide you. We'll start with makeup brushes.
Type 1: Brushes
Good quality makeup brushes made from high quality fibers or hair can be quite pricey. But, you can always buy all your brushes from one favorite brand or mix and match those you prefer to get better value. Here are the types of makeup brushes you should know:
Foundation brush—this brush is designed to achieve smooth and flawless finish of liquid foundation. Use the brush to spread and blend or alternatively apply your foundation directly to the brush and then apply to the face, starting at the nose and working your way out.

Stippling brush—this brush is also known as duo-fiber brush or skunk brush. Stippling brush is commonly used with liquid foundation, blush and bronzer.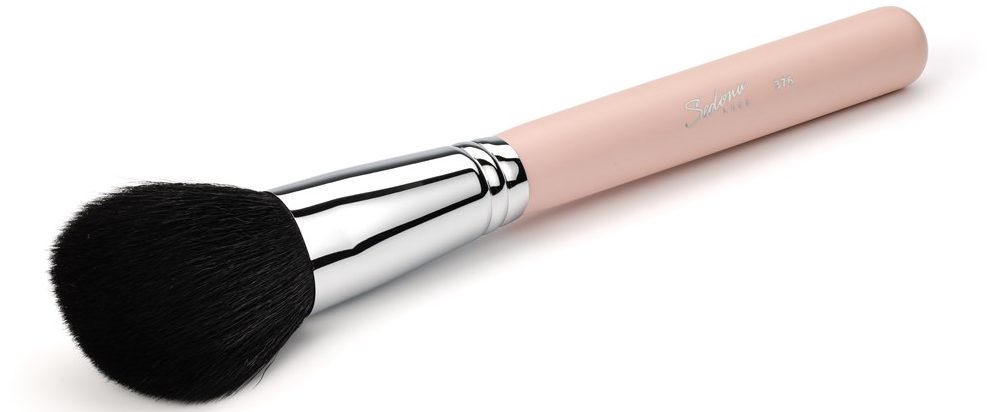 Powder brush—this type of brush is often confused as blusher brush. However, powder brush is softer, fuller, and more rounded than blusher brush. Simply pat your brush into your powder product, and sweep it on your face or neck.

Concealer brush—a tiny brush with big wonder. Concealer brush is a soft bristled, flat brush with a wider base and a pointed tip. It is usually used to apply concealer under the eyes, to spots and to camouflage problem areas such as discoloration.

Contour brush—slanted and rounded in shape, the contour brush mimics the angles of your cheekbones. This is an ideal brush for highlighting and shading with bronzer or illuminating powder.

Fan brush—this wide, fine fan sweeps a light dusting of powder onto the skin for a soft, velvety effect. You can also use the brush to apply highlighter on your cheekbones, or remove excess powder on your face (usually after eye shadow application)

Eye shadow brush—this brush is large, flat, short and brimming with bristles for excellent coverage. The soft bristles have a beveled edge for a smooth application without 'dragging' the eyelid.

Angled eye shadow brush—once a base eye shadow color has been applied with eye shadow brush, the angled eye shadow brush or contour eye shadow brush is then used for layering color and creating hard lines along the eyelid crease.

Blending eye shadow brush—this is the most important eye shadow brush. Use this light, fluffy brush to blend eye colors. Perfect to create smokey eyes look.

Fine point eyeliner brush—the extra fine tip of this brush delivers precise liquid and gel eyeliner application.

Eyebrow brush—yep, just like its name, this brush is used to define and fill brows. The bristles are stiff and angled for precise control. This brush can be used for any kind of eyebrow products such: powder, gel, or cream.

Spiral eyebrow brush/spoolie—at a glance, this brush looks like a mascara wand. Actually, spoolie is used for taming unruly hairs and comb eyebrows into form. It also helps to blend the eyebrow color to be more subtle.
Lip brush—this cute brush is perfect for achieving a flawless lip line. Usually a lip brush has short and firm bristles for controlled application.
Cleaning makeup brushes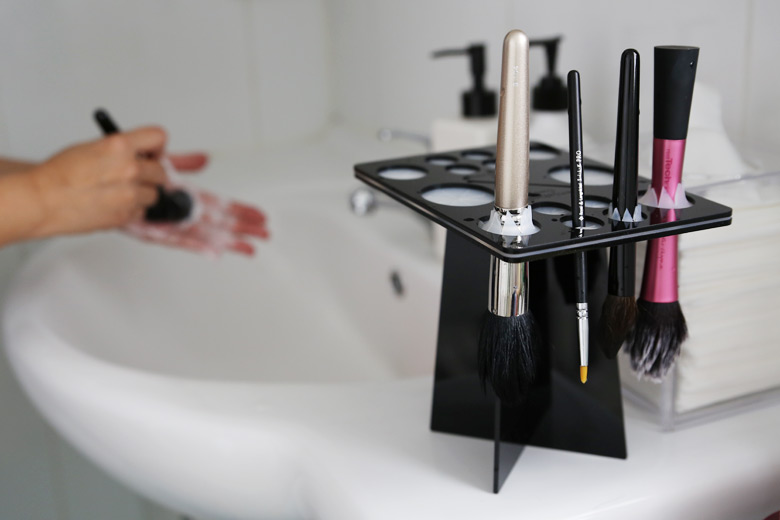 Never forget to clean your brushes, at least once a week (lip brushes and eye shadow brushes need to be cleansed after each use). The remaining products that stick into your brushes are full of bacteria, and you need to keep them clean. Use brush cleanser or brush shampoo with warm water to clean your brushes. Dry your brushes by hanging them on brush dryer rack, or place them on top of paper towel overnight.
Read more at #Beauty101: Types of Makeup Applicators and Its Function (Part Two)